Will D.C. Schools Be Open Monday?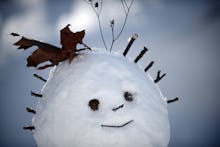 Astrid Riecken/Getty Images
Washington, D.C. — along with the entire Eastern coast of the United States and parts of the South and Mid-Atlantic region — was slammed with a catastrophic blizzard throughout the weekend. Winter Storm Jonas was one of the worst in recorded history, with over three feet of snow striking the nation's capital, according to the Weather Channel. 
As D.C. recovers from extensive damage brought on by Jonas, Mayor Muriel Bowser announced Sunday afternoon in a press conference that all schools in the region would be closed Monday until further notice. As for the national government, Bowser promised authorities would "do everything possible to get our government open tomorrow."
The Washington Post's Capital Weather Gang called into question snowfall measurements recorded at Reagan airport, reporting the location may have recorded measurements far lower than averages seen in the area, with the Post's deputy weather editor Angela Fritz writing, "As of 8 p.m., 17.8 inches of snow had been recorded at National – Washington, D.C.'s official weather monitoring location. That reflects just a 0.3-inch increase in the three hours since 5 p.m. during which time light to moderate snowfall was being reported at the airport."
The House of Representatives is expected to begin voting on Feb. 1, after closing for the upcoming week "due to the severity of the winter storm in the D.C. area," according to House Majority Leader Kevin McCarthy, the Weather Channel reported Sunday.
According to the Associated Press, Winter Storm Jonas has been one of the most catastrophic snowstorms to impact the Eastern United States, and has taken at least 19 lives so far.