A Major Problem With Colorado's Marijuana Economy Emerged After Weed Went Legal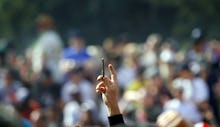 Something's rotten in Denver, and it's not the pungent stench of burnt cannabis filling the air. As Colorado's legal weed party barrels full tilt into its third year, the laws governing the state's medical and recreational marijuana businesses still haven't reckoned with the ugly racial disparities at their core.
The way things are looking, they probably never will. Since Colorado Amendment 64 took effect in January 2014, legal cannabis has meant booming business for the Rocky Mountain State. By mid-June of that year, 292 people had filed notices saying they planned to apply for vendor licenses, according to the Denver Post, while the state government reported it was raking in $52.5 million in marijuana tax revenue including licensing and fees by the end of 2014.
It's one of the fastest-growing industries in the United States. But who's being kept out of this lucrative new market? 
In Colorado, one of the requirements for getting a license to sell medical or recreational cannabis is that you don't have a controlled substance felony conviction on your record — including any involving marijuana. The irony here — that black people are far more likely to have such a conviction than any other racial group in the state — points to one of the biggest problems with legal weed trends sweeping the nation.
Legalizing recreational marijuana use has been lauded far and wide as a death knell for the war on drugs. The United States' incarcerated population has risen 500% since the 1970s, much of it fueled by arrests and convictions for nonviolent drug-related crimes. Only recently have politicians and the American people started to agree this is terrible policy and a new approach was necessary. Today, 20 U.S. states have either decriminalized or legalized marijuana.
But the racial disparity in who gets punished for drug crimes remains as stark as it always has been. When then-President Richard M. Nixon called for a crackdown on drug use and distribution in 1971, it was widely understood as part of his larger "tough-on-crime" initiative — itself a thinly veiled appeal to whites who felt threatened by the gains of blacks during the civil rights movement. That intent has been reflected in the numbers: 37% of Americans arrested for drug crimes are black, despite whites using drugs at comparable rates, according to the Drug Policy Alliance.
And things were certainly no different in the states where marijuana is now legal. In Colorado specifically, black people were 3.1 times more likely to be arrested for marijuana possession than whites from 2001 to 2010, constituting 10.5% of the state's marijuana arrestees over that period despite making up just 3.8% of the state population. 
Even now, blacks are 2.5 times more likely to get arrested in Colorado for marijuana-related crimes, including public consumption and possession in excess of the legally sanctioned amount, according to the Guardian. But since voters moved to amend the state constitution to allow for legal marijuana use in 2012, a celebratory zeal has infused the move toward legalization that seems increasingly out of step with its failure to redress the devastation that criminalization left in black communities. 
We cannot escape that history. Today, just one of Colorado's 424 certified legal marijuana dispensaries is confirmed to be owned by a black woman. (A black man named Dan Pettigrew owns an extract company called Viola Extracts — not technically a dispensary.) That woman's name is Wanda James. In the latest episode of Mic's web series The Movement, James takes aim at the inequality behind this new industry.
"When you start to look at the number of white males making billions off of this plant, and black males still serving time because of this plant, it does not make sense that in America, your zip code determines whether you're a millionaire or a felon," James told Mic's Darnell Moore.
James' brother, Darrick "Rick" Barnes, is a prime example of these disparities. At 17, Barnes was arrested in Texas for marijuana possession and sentenced to 10 years in prison. Now that the plant is legal in Colorado, he is effectively shut out of the state's cannabis economy, even though he's demonstrated an aptitude for growing the plant as a former employee at his sister Wanda's medical dispensary. "If it's something you like to do, or want to do, or can do, they won't accept you because of [that conviction]," Barnes told Moore. He is currently the manager of his sister's restaurant, Jezebel's, in Denver.
As far as whether Colorado's government is making moves to counteract these disparities, that much remains unclear. The Colorado Department of Revenue's Marijuana Enforcement Division did not return Mic's request for comment. But as clemency and pardons are increasingly being handed out to incarcerated victims of the war on drugs — President Barack Obama has commuted the prison sentences of 184 mostly nonviolent drug offenders since spring 2014 — it seems high time to implement reparative measures for those who've suffered the most.
Until then, white Coloradans will continue reaping the benefits of the state's booming cannabis economy, while disproportionately targeted black individuals convicted of drug crimes are left in the dust. With this in mind, perhaps the most insidious legacy of the war on drugs is the one that emerged after weed went legit.
Watch the latest episode of The Movement below where Darnell Moore talks to Wanda James: