'The Walking Dead' Demonstrates Why Great TV Shows Need Great Villains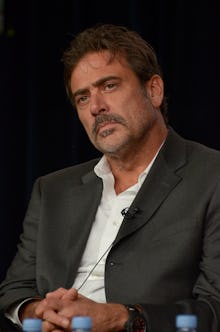 This Valentine's Day will be filled with zombies, gore and the political and social ramifications of human morality in the midst of society collapsing for many a TV viewer. That's right: Come Feb. 14, The Walking Dead will slowly march into the second half of its sixth season. 
Last fall, the first half of the AMC series' season saw the zombie series lose some of its magic. Even its wholly impressive ratings began to dip. Turns out, there's only so many times a show can repeat the same trope and keep viewers tuned in — in The Walking Dead's case, trying to find a new society to call home before it crumbles apart and the crew starts all over again.
Thankfully, The Walking Dead's creative team has a solution in store. The series will introduce a main villain for the first time since the Governor back in season three, a void the show neglected to properly fill in the seasons since. This year, fans will meet Negan (played by Jeffrey Dean Morgan), a brutal character even by this show's standard. With Negan, The Walking Dead will, at minimum, shy away from repetitive conflicts and social commentary, instead providing a real, tangible threat to the protagonists.
Negan is equal parts demented and methodical. He carries around a baseball bat laced with barbed wire. He drops the F-bomb at least once in every sentence. Put simply, he's the amplified personification of protagonist Rick (Andrew Lincoln)'s darker tendencies as both survivor and a leader. 
Robert Kirkman, The Walking Dead comic book's creator and the show's current executive producer, said in an interview with Entertainment Weekly that the character's arrival will be "an atomic bomb that's going to be dropped on the show and the show will probably never be the same after that." While he's yet to make a physical appearance on The Walking Dead, Negan's influence has already been felt in a prologue about his lackeys.
It should be a refreshing change of pace for the show. If it stays true to the comics, we could have at least one major character death. Frankly, that would be great news: One huge problem with The Walking Dead in recent seasons is the show's hesitation to kill off its biggest names. That, in turn, cuts into the suspense: All the important characters will be just fine by episode's end, guaranteed.
Most recently, The Walking Dead strongly suggested earlier this season that Glenn (Steven Yuen), one of the few remaining characters from the beginning of the show, was killed. Yet, Yuen did not appear on Talking Dead — AMC's Walking Dead after-show — or its "In Memoriam" montage, a long-standing tradition for when key characters die. 
So when it was revealed that Glenn had survived, the news wasn't much of a surprise. What could have been a gripping twist was instead mostly a yawn.
So Negan presents an opportunity to get away from the show's recent low-stakes storytelling and raise the overall quality. Other hugely successful dramas have managed to use a villainous boost to climb to new heights. Take Breaking Bad, for instance.
While Breaking Bad is recognized as one of the modern era's best television shows, its best moments in the moral unraveling of Walter White were thanks to its only extended villain: Gustavo Fring. When Fring is introduced in season two as Walter's partner, Walter ascends quickly, gaining major influence as a meth cook. The scale of his strain extends beyond Albuquerque, New Mexico. In the process, Walter sees Fring's network and ambitions laid bare. When Walter sees the lengths to which Fring will keep his drug empire in check firsthand, he fears for himself and his family.
The scene begins a tense conflict — one where Fring is always one step ahead of Walter — that takes the whole season to resolve. However, Walter can only get to the point of usurping Fring by stooping to his most morally questionable acts to date. He poisons a child to manipulate his associate, Jesse, and convinces one of Fring's longtime enemies to blow himself up at his retirement home, killing Fring in the process.
Walter's transformation from "Mr. Chips to Scarface," as Breaking Bad creator Vince Gilligan has described it, is completed in Fring's death: He becomes the now-infamous drug kingpin, Heisenberg. Broadly, Walter White's gradual turn from hero to villain is one of the best elements of Breaking Bad — but without Gus Fring, none of it would have been possible.
Meanwhile, Game of Thrones measures its enormous cast with a glut of characters who aren't wholly good or evil. Yet, there's always at least one person at all times who glues audiences to the screen for sheer animosity toward the character. The most notorious of these was Joffrey Baratheon. From the moment he appeared onscreen his smug, cocky demeanor and childish antics made him a lightning rod of hate. His cruelty worsened over time, from making Sansa Stark look at the decapitated head of her father to viciously murdering a prostitute with a crossbow. He did it all with glee.
Joffrey's someone we all loved to hate, and in a show with so many painful moments for characters whose moral compass point in the right direction, viewers have to take pleasure in small victories. Because of this, one of the most satisfying moments of Game of Thrones is Joffrey's unexpected death. 
Characters like Joffrey and Fring are integral to their shows. Without them, without the slim hope that karma will hit them hard, their shows are merely filled with intense suffering devoid of any potential rewards. Well-constructed fantasies and dramas aren't just about the rise of the hero, but also the fall of the villain.  
With Negan, The Walking Dead can add its own dose of villainy to further progress the show. Like Breaking Bad's Fring, Negan could be a tool aimed toward Rick losing even more of his humanity. Similarly to Joffrey on Game of Thrones, he could be the next character audiences love to hate from week to week.  
If nothing else, Negan's presence onscreen should inherently improve The Walking Dead. He's a curveball, or in this case, an "atomic bomb," into the show's oft-repeated narrative structure. The series has been walking for five-and-a-half seasons now. It could stand to run for a while.