The Zika Virus Is No Longer Just Brazil's Problem: Here Are 5 Things You Should Know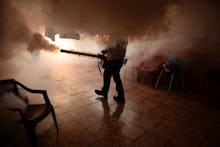 The Zika virus, which is believed to contribute to brain defects in the fetuses of infected pregnant women, is likely to spread throughout the Americas, according to the World Health Organization. 
The mosquito-transmitted illness has thus far been detected in 21 countries across four continents, and currently there is no vaccine or treatment. 
Brazil has been battling an outbreak of the virus since May, which is in large part precipitating the spread of the disease in North and South America. 
As the Centers for Disease Control and Prevention continue to issue more Level 2 (enhanced precautions) travel alerts for affected regions — and millions are set to descend upon Rio for the 2016 Summer Olympics — it's helpful to know the basics.
1. What does it do to you?
The WHO suggests an incubation period of a few days, but has not stated the exact length of time with certainty, as the virus is still being studied. 
Symptoms include headaches, rashes, conjunctivitis, fever and muscle pain and last anywhere from two to seven days. However, 1 in 4 people infected do not show any symptoms whatsoever. 
2. What does it do to unborn babies?
Zika virus has been linked to microcephaly, or abnormally small brains, in newborns. While there is evidence that shows a correlation between the virus and the birth defect, health agencies are waiting to collect and examine more data before declaring a causation. 
Brazil, for example, has seen hundreds of cases of microcephaly annually. But since October alone during the outbreak, the country has reported almost 4,000 cases. 
"Although a causal link between Zika infection in pregnancy and microcephaly has not, and I must emphasize, has not been established, the circumstantial evidence is suggestive and extremely worrisome," WHO General Director Margaret Chan told her executive board, according to Reuters.
"An increased occurrence of neurological symptoms, noted in some countries coincident with arrival of the virus, adds to the concern," Chan added. 
3. How is the virus transmitted?
Certain mosquitoes, specifically aedes aegypti and aedes albopictus mosquitoes, are responsible. While the former are found in "tropical and sub-tropical regions," the latter tend to be "found in tropical, sub-tropical and temperate regions," the WHO says. 
In rare cases, the virus may be sexually transmittable. "Zika has been isolated in human semen, and one case of possible person-to-person sexual transmission has been described," the organization said in a statement, according to Reuters. "However, more evidence is needed to confirm whether sexual contact is a means of Zika transmission."
4. Where did the virus originate?
The virus was initially discovered in monkeys in Uganda in 1947, but by 1952 had transmitted to humans; there were recorded cases in both Tanzania and Uganda.
5. What are the recommended methods of prevention?
Given there is no cure or vaccine as of yet, pregnant women should reduce exposure to potentially harmful mosquitoes is the only preventative measure. 
That has taken the form of either restricting travel to highly infected areas or mitigating contact with mosquitoes within those areas through the use of insecticide, mosquito nets, protective clothing or staying in doors.
Some governments in the Caribbean and South America have called on women to delay pregnancy until Zika is better under control. 
"Until we understand the science better, postponing planned pregnancies is a sensible option," Professor of Infectious Disease Epidemiology at the London School of Hygiene and Tropical Medicine Laura Rodrigues told the Independent. "The final choice of course must be the women's."
"This is a very new situation — it's only a few months since we discovered the link between Zika and microcephaly — and there are still big gaps in knowledge," she said.