Kanye West Reveals His Track List for 'Swish.' Here's Every Track for New Album on Feb. 11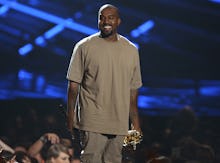 Matt Sayles/AP
Kanye West has purportedly announced the track list to his upcoming album, Swish. The reveal came in the form of a photo shared after midnight Monday on Twitter of what appears to be the titles of 10 songs that will appear on his seventh studio album. As previously announced, Swish will include recently released tracks "No More Parties in L.A." and "Real Friends," in addition to unseen cuts such as "Nina Chop" and "Father Stretch My Hands." The long-awaited LP is expected to be released Feb. 11. 
"So happy to be finished with the best album of all time," West tweeted. "Kylie was here," reads a note added at the bottom of the page, allegedly penned by West's sister-in-law and reality TV royalty Kylie Jenner. 
Read more:
Perhaps more clearly, that list reads:
1. "Nina Chop"
2. "Father Stretch My Hands"
3. "Waves"
4. "High Lights"
5. "30 Hours"
6. "No More Parties in L.A."
7. "Fade"
8. "FML"
9. "Real Friends"
10. "Wolves"
Many fans were overjoyed by the tweet, while others were quick to weigh in on West's penmanship.
On Jan. 8, West released the track "Real Friends" and announced on Twitter that he was reinstating G.O.O.D Fridays. The effort is something West began in 2010, and one that will reportedly see him release new material (not always his own) each Friday in an effort to provide fodder to his fans. Next came "No More Parties in L.A.," which West released Jan. 18 and features Kendrick Lamar. And on New Year's Eve, West sneak-released another track called "Facts," however that cut does not appear on the handwritten track list.
Source: Soundcloud
Considering Swish was first announced in 2014, a fair amount of ink has been spilt in the long lead-up to the album. In that time, however, West and his wife Kim Kardashian West welcomed their second child, a boy named Saint West. 
Swish, which will serve as the follow-up to 2013's Yeezus, has apparently not come without a decent amount of stress for West, who has clearly felt pressured to deliver a finished product to his followers.
"No offense to anyone," West tweeted on Dec. 13, "I'm asking everyone don't ask me for anything til after I'm finished with my album," to which West fans and the general public said, "Imma let you finish."