CNN Democratic Town Hall 2016: Full Preview and Livestream Info For Monday's Event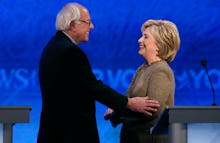 Jim Cole/AP
CNN is hosting a Democratic presidential town hall as former Secretary of State Hillary Clinton battles to maintain her lead in the coveted voting states and Vermont Sen. Bernie Sanders' campaign sees continued surges. The two frontrunners are sharpening their knives and preparing their closing arguments before voters take to the Iowa caucuses Feb. 1. 
Former Maryland Gov. Martin O'Malley is still holding onto his campaign as well, though he hasn't gained significant ground throughout the beginning of the election season. Monday's town hall will take place from 9 p.m. to 11 p.m. Eastern at Drake University in Des Moines, Iowa, and will be moderated by CNN anchor Chris Cuomo, brother of New York Gov. Andrew Cuomo — who seems to favor Clinton as the Democratic nominee. 
The town hall will be livestreamed on CNN's mobile app, CNNGo. The three candidates will take the stage separately for 30 minutes and will take questions from both Cuomo and Iowa Democrats.
Read more:
The presidential race has been kicking into high gear for 2016, with the upcoming Republican presidential debate set for Thursday night, hosted by Fox News; it will also take place in Des Moines. 
Ahead of the democratic town hall, the three presidential hopefuls have been broadcasting their platforms for potential voters across social media: