How Long Is the Super Bowl Halftime Show?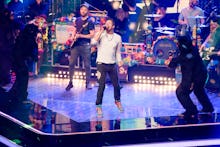 Clemens Bilan/Getty Images
The famous Super Bowl halftime show has long given non-football fans a reason to tune into the NFL's championship game (at least for several minutes), with past performances from a wide range of music legends like Michael Jackson, Stevie Wonder, the Rolling Stones, the Who and Beyoncé. This year's show will feature a performance from platinum artists Coldplay and a returning Queen Bey. 
How long? Judging from the length of recent halftime shows, this year's halftime concert should last roughly 13 to 15 minutes. Katy Perry and Lenny Kravitz performed for a collective 12-and-a-half minutes during last year's show, and Beyoncé performed for 15 minutes in 2013. 
Read more:
The performance will emphasize the Super Bowl's 50th year, reflecting on the past 50 years of tradition and also looking forward to the next 50, Coldplay's Chris Martin told Entertainment Tonight.  
"In an ideal world, we'd like to somehow honor the past, celebrate the present and look to the future," Martin said. "I don't know how we're gonna do that, but we're gonna try our best."