Is Michael Bloomberg Running for President? Here's What We Know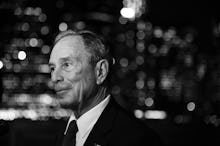 Ilya S. Savenok/Getty Images
Over the weekend, CNN reported there's a chance that the dwindling pool of presidential hopefuls may increase by one. Citing an unnamed source, the news outlet reported confirmation that New York City's former mayor Michael Bloomberg organized a poll in December to gauge his chances of winning the nomination, an effort first reported by the New York Times earlier this month. 
On Sunday, CNN reported that Bloomberg's impetus for commissioning the poll was twofold — the sustained lead of Republican frontrunner Donald Trump in voter polls and declining support for Democratic leader and former Secretary of State Hillary Clinton. Should he attempt to launch a late-stage campaign, Bloomberg would reportedly run as an independent, according to CNN. The results of the alleged poll are currently unknown.
"I think it's the Democrats who would suffer from a Michael Bloomberg candidacy," Jennifer Horn, chairwoman of the New Hampshire Republican State Committee, told the Wall Street Journal. "He's a man who is very much aligned with the radical left values of the party of the Democratic Party today, whether it's gun control or you are not allowed to drink a Big Gulp."
Read more:
Bloomberg has played on both sides of the political aisle. After siding with the Democrats for years, the politician switched his affiliation to the Republican party while he was running for mayor in 2001. The politician's rumored campaign consideration is a somewhat familiar one, seeing as Bloomberg took similar polling measures during the 2008 election cycle, though never committed to a campaign in earnest. 
As it stands, a definitive frontrunner in the race for the White House is becoming less clear. According to the most recent poll numbers from CBS News, Texas Sen. Ted Cruz is closing the gap on Trump's lead, at least in Iowa, and has gained the support of 34% of Republican primary voters in the state. According to that poll, Trump now has 39% of Republican primary voters' support. 
The figures vary depending on the poll, and a separate survey of Republican primary voters in Iowa from Fox News puts Trump at 34% compared to Cruz's 23%. 
Meanwhile, on the Democratic side, Vermont Sen. Bernie Sanders is also closing Clinton's lead. In Iowa, Sanders has surpassed Clinton in the polls, and now has the support of 47% of Democratic primary voters compared to Clinton's 46%, according to the CBS poll. A Jan. 21 poll from CNN/ORC International says Sanders is polling at 51% in Iowa, while Clinton is polling at 43%. Clinton is still leading in the polls nationally, according to survey results from Monmouth University, which says the former Secretary of State is polling at 52%, ahead of Sanders at 37%. 
It could be that shifting public support on both sides of the race could open the door for a Bloomberg bid, however no official announcement on his decision to run has been made. "Whatever Mr. Bloomberg decides, the election so far has been upended by voters who live far from his world and, for the first time in years, feel as if their voices are being heard," the Times reported.
But for what it's worth, until a final call from Bloomberg surfaces, Trump said he welcomed the challenge. "I would love to have Michael Bloomberg run," Trump said during an NBC episode of Meet The Press. "I would love that competition. I think I'd do very well against it."