Danny DeVito Talks Oscars: "It's Unfortunate That the Entire Country Is a Racist Country"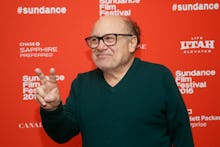 The Academy of Motion Picture Arts and Sciences may have made moves to diversify membership last Friday, but actor Danny DeVito is convinced the problem is far from solved. It's systemic — and not just in Hollywood.
"We're a bunch of racists," DeVito said of Americans in an interview with the Associated Press at the Sundance Film Festival.
DeVito chalked the problem up to the "unfortunate" idea "that the entire country is a racist country." His comments indicate he thinks the academy's problem — that is, nominating all-white classes of actors for awards two years in a row — is merely evidence of the greater problem in the United States.
"Even though people were giving great performances in movies, they weren't even thought about," DeVito said, referencing the numerous actors of color who Oscar voters ignored this year. Taken from a comic actor's mouth, a broad declaration that the entire country is racist could come as an exaggeration for humor. But DeVito's delivery is blunt, with no wink or joking undertone added. It's a surprisingly serious statement.
DeVito joins a chorus of actors and creators speaking out about #OscarsSoWhite this year, including David Oyelowo, Lupita Nyong'o and Mark Ruffalo. Will Smith and Jada Pinkett Smith have said they're boycotting the awards, though it's possible they'll reconsider in the wake of the changes. One who isn't: director Spike Lee, who doubled down on the boycott in an interview with Us Weekly.
DeVito isn't the typical Academy Awards attendee, so he'll likely not have to decide one way or the other on a boycott. But, as he said in summary, this goes far beyond a boycott. "We are living in a country that discriminates and has certain racist tendencies," he said. "So sometimes it manifests itself in something like this, and it's illuminated."
Watch DeVito's full comments below.
Get the five stories that will challenge you to rethink the world by signing up for MicCheck Daily.