A Province in South Africa Is Awarding Women Scholarships Based on Their Virginity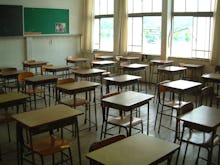 Every year, South African mayor Dudu Mazibuko awards scholarships to more than 100 promising high school and college students in her district. This commendable act took a disturbing turn this year, however, when Mazibuko added a new category and qualification to the roster. Sixteen young women in the Uthukela district of the eastern KwaZulu-Natal province were recently awarded scholarships solely based on the "pure" status of their virginity, the Associated Press reported on Sunday. 
"To us, it's just to say thank you for keeping yourself and you can still keep yourself for the next three years until you get your degree or certificate," the mayor said of the scholarship, according to the same report.
Each awardee must not only agree to remain a virgin to maintain her scholarship, but also "produce a certificate" proving this status and submit to virginity tests, the mayor told a South African talk radio station, according to the Associated Press. The practice is not unconstitutional if the woman being tested consents, the AP reported.
Virginity tests are particularly common among the Zulu ethnic group and involve an elderly woman inspecting the hymen of a young girl in front of her relatives, according to the Week. Although many studies suggest abstinence is less than effective in terms of preventing both STI transmission and pregnancy, virginity has long been upheld as the primary and preferred method to counter both in South Africa, according to the BBC. South African deputy president Jacob Zuma publicly advocated for virginity tests in 2004, noting that a young woman's virginity "is her family's greatest 'treasure,'" according to the Week.
But the tests have also been widely condemned. As the South African Commission for Gender Equality stated in 2008, the test promotes a sexist double standard by presuming women are "the ones who are likely to be deviant," and saying the practice "no longer serves our society," the Washington Post reported.
This scholarship in particular has also been criticized. As noted by the executive director of the African organization People Opposing Women Abuse, Nonhlanhla Mokwenda, the scholarship requirement is "a violation of [these students'] rights" and uses taxpayers' money to "violate girls and violate the constitution of South Africa," Africa News reported Sunday.
"There is an issue around discrimination on the basis of pregnancy, virginity and even against boys," Mfanozelwe Shozi, chairman of the Commission for Gender Equality, told the Associated Press. "This is going too far."
h/t The Cut
Get the five stories that will challenge you to rethink the world by signing up for MicCheck Daily.