Please, Please, Please Do Not Tell Us Crimped Hair Is Back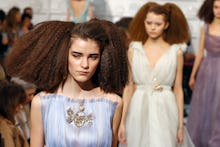 Please, we beg of you, designers. Don't bring it back.
On Monday, a striking thing turned up in Paris where a week of haute couture shows has just kicked off: In a city of laidback beauty, the land of the chic and effortlessly gorgeous, crimped hair found its way to the runways.
Full-on, blown-out crimps. 
All over every model's head.
The show was for Elsa Schiaparelli, the eponymous fashion house of the famous surrealist designer known for putting lobsters on dresses and making hats shaped like shoes. Schiaparelli died in 1973, but her namesake label has been revived with designer Bertrand Guyon at the helm, as has her legacy for lighthearted, absurdist quirk.
That quirk found its way onto the food-themed clothes, which were printed and embroidered with everything from flowers, fruits and vegetables to plates, silver spoons and, yes, lobsters. The models also sported painted eyebrows to match their white go-go boots.
But the feature that really stood out was that hair — that big, fluffy crimped hair.
The hair might have been all part of the dinner party theme (hot-ironed hair to match, er, hot food?). But really, it will likely strike female fashion fans as a throwback to simpler times, both to the big-haired, neon-filled '80s and the sparkly, choker necklace-filled '90s — both eras, miraculously, that embraced crimped hair.
It's amazing, we know. 
And it clearly helped you land a kiss. 
From Topanga to Fergie to Tyra to our girl Britney, we could very well be poised to kick off 2016 with a march back in hair-time. After all, chokers and Baby G watches are back... and Kylie Jenner, she of all things cool and trendy and about-to-go-viral, even included a crimping beauty tutorial on her app, which a brave soul at BuzzFeed tried.
"This was the first time I've crimped my hair since the '90s, and it will hopefully be the last," she wrote.
It may not be, judging by the Paris runways. Just keep in mind: Should this quirky style of yore come creeping back into our hair routines, it may involve a new set of hot tools. We're not quite sure we're ready to re-invest.