Transgender Olympians Just Scored Big With This New IOC Ruling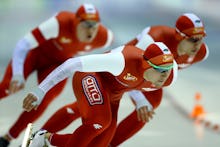 The International Olympic Committee announced on Sunday night its decision to ease restrictions on participation of transgender athletes, in time for the forthcoming 2016 Olympics in Rio de Janeiro, Brazil.
The committee adopted recommendations from an IOC consensus meeting of medical professionals in November, which decided the 2003 restrictions on transgender participants, which mandated sex reassignment surgery and at least two years of hormone therapy, were unfair. 
"It is necessary to ensure insofar as possible that trans athletes are not excluded from the opportunity to participate in sporting competition," a summary of the November consensus meeting stated. "The overriding sporting objective is and remains the guarantee of fair competition."
However, after reevaluating the issue, medical professionals decided the previous regulations may be overly discriminatory. "To require surgical anatomical changes as a precondition to participation is not necessary to preserve fair competition and may be inconsistent with developing legislation and notions of human rights," the summary stated. 
Female-to-male transgender athletes will have absolutely no restrictions when it comes to participation in men's competitions. However, male-to-female transgender athletes will have to undergo hormone treatment and demonstrate their testosterone levels are below a certain threshold. To date, there have been no openly transgender active athletes competing in the Olympics.
Each country's Olympic committee is individually responsible for assessing whether their representative athletes comply with the games' rules — including guidelines for gender classification — and, as of 2012, must "actively investigate any perceived deviation in sex characteristics and keep complete documentation of the findings," according to IOC regulations on sex eligibility.
Still, ssts for doping and performance enhancement drugs in athletes, says the IOC, "focus on all prohibited substances and all prohibited methods," as opposed to hormone levels specifically.
As far as other international federations for sports are concerned, the IOC's new policy is intended to serve as suggested guidelines as opposed to hardline rules, the Associated Press reports.
"I don't think many federations have rules on defining eligibility of transgender individuals," the IOC's medical director Richard Budgett said, according to the AP. "This should give them the confidence and stimulus to put these rules in place."