The Guy From "Pitch Perfect" Just Proved Men Can Have Engagement Rings, Too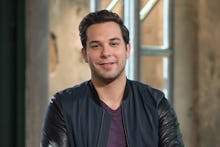 Every so often, a heterosexual couple does a thing that delightfully challenges traditional customs surrounding engagements. From women popping the question to couples hosting co-ed bachelor/ette parties, it's always interesting to see what happens when a straight couple subtly subverts a gender norm or two on their road to the altar.
Which brings us to Pitch Perfect actor Skylar Astin and his actress fiancée Anna Camp, who announced their engagement last month. In a recent Instagram post, Astin wrote, "It always felt odd to me that men didn't get engagement rings. Thankfully, my fiancée thought so too."
It was accompanied by a snapshot of his engagement ring:
Meanwhile, Camp posted her own engagement ring photo, which was a li'l more diamond-y than the understated band she got for her hubby-to-be.
Astin isn't the first dude to rock some low-key engagement bling. Heartthrob crooner Michael Bublé also sported one in 2010 during his engagement to Argentine actress Luisana Loreley Lopilato de la Torre, while Johnny Depp wore an engagement ring in 2014 after the one he bought for fiancée Amber Heard didn't fit her as expected. Non-celebrity men wear engagement rings as well: According to a 2011 XO Group survey, 5% of grooms-to-be wear so-called "man-gagement rings." 
The gender-inclusive engagement ring trend isn't necessarily new. In a 2014 Atlantic article titled  "The Rise of the Man-gagement Ring," Samantha Zabell wrote that jewelry companies attempted to make male engagement rings happen back in the 1920s, giving them such #masc names as "Pilot," "Stag" and "Master" to encourage men to wear them. But the idea didn't start to take off until same-sex weddings created a demand for gender-neutral engagement rings.
"I've never understood why men don't wear an engagement ring," wrote Tracy Moore at Jezebel in response to the Atlantic article. "Actually, scratch that: I understand why they didn't wear them in the past, when marriage was but the economic chess move of a lady, any lady from her Father to Some Other Dude. But Things Have Changed ™ so it's high time the lady-only engagement ring goes the way of the hetero-dodo and men announced their cordoned-off status for all to see immediately upon engagement."
Skylar Astin likely agrees. Man-gagement rings: a "pitch perfect" symbol of love and commitment! (Sorry.) (But not sorry.)
h/t USA Today