Marco Rubio 2016: Where Florida Senator Stands on the Issues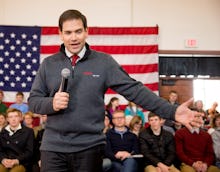 Andrew Harnik/AP
In a crowded GOP field, it's important for a candidate to stand apart among peers for the presidential election. For Florida Sen. Marco Rubio, just like with any other candidate, it means being able to maintain clear viewpoints on the biggest issues that could drive his 2016 presidential campaign. 
Read more:
Foreign policy: Rubio's experience in the senate includes a seat on the Senate Committee on Foreign Relations and the Senate Select Committee on Intelligence, which has given him at least one clear advantage in the Republican race: extensive foreign policy knowledge. According to the Washington Post, it's also important for a GOP candidate to have foreign policy experience to counter Democratic frontrunner Hillary Clinton's background as secretary of state — a position where she traveled more than any secretary of state in U.S. history. 
"She'll obviously be vulnerable to attacks on her foreign policy record. But for those attacks to work, the GOP nominee is going to have to meet a minimum threshold of foreign policy/national security acumen. And at this point, the only two candidates that meet that threshold are Rubio and [Kentucky Sen. Rand] Paul," Daniel W. Drezner wrote for the Post. 
In his specific stances on foreign policy, Rubio has emphasized that America needs to be involved in foreign affairs, while also being leaders — not followers — of foreign coalitions. "Global problems do require international coalitions," Rubio said in a speech at the Brookings Institution in April 2012, according to a press release. "On that point [the Obama] administration is correct. But effective international coalitions don't form themselves. They need to be instigated and led, and more often than not, they can only be instigated and led by us. And that is what this administration doesn't understand. Yes, there are more countries able and willing to join efforts to meet the global challenges of our time. But experience has proven that American leadership is almost always indispensable to its success." 
Watch Rubio's ad on foreign policy from December 2015 below: 
Immigration: Compared to other candidates, Rubio's involvement in immigration is a more personal one, as his parents emigrated from Cuba in 1956, according to Rubio's campaign page. He was a supporter of a comprehensive immigration reform legislation in 2013, which he co-sponsored, though it later died in the House. 
Rubio has since renounced his own bill, which could be attributed as an attempt to appease his conservative colleagues and supporters, though it presents its own risks. "Rubio used to believe this was a reasonable approach to reform before conservatives sabotaged him, and he's spent the time since then tacking steadily rightward to make amends," Simon Maloy wrote for Salon. "He's being forced to take some extremely conservative positions to overcome the distrust of the Republican base, and that will be a real problem for him in the general election if he wins the nomination."
Now, Rubio's campaign page has focused on the priority of border security before an overhaul of the immigration system can be enacted. "Our immigration system itself is chaotic," Rubio wrote in an excerpt of his 2015 book — American Dreams — according to Rubio's campaign page. "Entire sectors of our southern border are not secure, creating not just an immigration problem but a serious humanitarian and national security one as well."
Abortion: Rubio is a firm pro-life supporter, and has said that he wants to end all abortions, even in the case of rape and incest. "I believe all human life, irrespective of the circumstance in which it came into being, is worthy of protection," Rubio said, according to the Los Angeles Times. "If I have to weigh the two equities here, I have to err on the side of life."
Additionally, Rubio said that he would cut funding of Planned Parenthood as commander in chief. However, his stance on abortion similarly puts the senator at a greater risk in a general election, according to the Times.  
Same-sex marriage: Rubio is also opposed to same-sex marriage, and has said that he would rather have same-sex marriage come down to states, rather than focused on from a national level. However, with the Supreme Court ruling, he said he would appoint new Supreme Court justices to overturn the decision. 
"It is the current law," Rubio said in a December 2015 appearance on NBC's Meet the Press, according to Bloomberg Politics. "I don't believe any case law is settled law. Any future Supreme Court can change it. And ultimately, I will appoint Supreme Court justices that will interpret the Constitution as originally constructed."
Economy: Broadly, Rubio wants to loosen government regulation on businesses and over the internet with online sales. "Government can get in the way, big time," according to Rubio's campaign page. "Outdated labor regulations, new taxes and other bad policies can prevent new, innovative businesses and technologies from ever being able to get off the ground."
Additionally, Rubio said he would reduce tax rates for most taxpayers — which would eliminate federal estate tax — and reduce the number of tax brackets from seven to three. However, according to Bloomberg Politics, it might not benefit the majority of the American working class, with a fiscal policy expert at the Brookings Institution calling it "brutal for low-income households and not politically realistic." 
While Rubio still trails the likes of real estate mogul Donald Trump and Texas Sen. Ted Cruz in the national polls, the senator still remains in contention and can use major policy positions — specifically, his extensive foreign policy background — as a means to increase Republican support.