Full Preview of Uniqlo and Lemaire's Spring 2016 Collaboration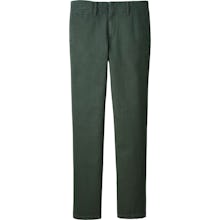 Uniqlo/GQ
After their last collaborative line sold out within a week, Japanese retailer Uniqlo and high-end french label Lemaire dropped a full preview of their 82-piece upcoming Spring-Summer 2016 collection featuring the simple yet sophisticated basics both brands are known for. 
The anticipated Uniqlo and Lemaire Spring-Summer 2016 lineup includes trousers, shorts, polos, light outerwear and other basics in simple solids like ivory, forest green, navy blue and light-wash denim. Uniqlo is known for its affordability while Lemaire is known for its high-end casual couture, so the collaborative line will likely meet somewhere in the middle (every item from the fall-winter collection was under $200).
Read more:
Lemaire founder and designer Christophe Lemaire, formerly an artistic director for Hermès, told the New York Times in September that doing a second line with Uniqlo was a "natural" decision for the two brands and a way to improve on the first collaboration. "It came along naturally, because we both felt that it would be exciting to go on, for at least one season. It will be a whole new season — summer — as well," he told the Times. "It was also a way to improve what we couldn't do for the first season. It's always the same: We are never satisfied."
Here's a sneak-peek at some of the pieces:
Check out GQ's exclusive report of the entire collection.