NASA Photographs Reveal What #Blizzard2016 Looked Like From Space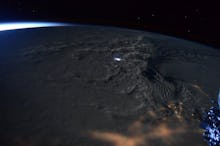 While much of the East Coast of the United States found itself buried under a mountain of snow last the weekend, some lucky folks were riding high above the fray — about 220 miles above. 
Over the weekend, astronaut Scott Kelly and the official NASA account tweeted a number of photos of the massive blizzard from their orbital vantage points, and the results were spectacular. 
Your paltry snowdrift Instagrams have nothing on this:
The bird's-eye view (or astronaut's-eye view, as it were) drives home just how massive the storm really was. In some shots, the entire eastern coastline — and miles inland — is absolutely blanketed by the storm. The storm was still chugging along on Sunday night, as evidenced by Kelly's nighttime farewell post:
Kelly also managed to capture a majestic snapshot of thundersnow — a vaguely terrifying weather phenomenon in which snowstorms are accompanied by thunder and lightning. The effects are wild enough on the ground, but from above, thundersnow looks like a billowing, dazzling trail of clouds lit up by tiny sparks of light:
This isn't the first time we've been able to sneak a look at colossal weather events from space: Hurricane Sandy, 2010's "Snowpocalypse" and the 2011 tsunami off the coast of Japan were all documented, too. 
#Blizzard2016 dumped more than two feet of snow on some parts of the East Coast, including New York's Central Park, which was home to 25.1 inches as of Saturday night. It came after a balmy December, which logged some of the warmest temperatures on record.
The storm was no issue for the astronauts of the International Space Station, who were probably having too much fun with their space flowers to pay the storm too much attention anyway.