Explorer Henry Worsley Died Just 30 Miles Shy of a Record Journey Across the Antarctic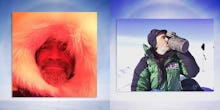 After traversing 913 miles across Antarctica in 71 days alone, British explorer Henry Worsley, 55, died 30 miles short of achieving his goal to be the first person to cross the continent unaided. 
According to the Guardian, Worsley, a former British army officer, announced his withdrawal from the mission days before his death, writing, "The 71 days alone on the Antarctic with over 900 statute miles covered and a gradual grinding down of my physical endurance finally took its toll today, and it is with sadness that I report it is journey's end — so close to my goal." 
Worsley's expedition began at the Ronne ice shelf, intersected the South Pole and ended on the Ross ice shelf, just before he could complete the journey to the tip of the shelf. (See a map of the expedition here.)
The Daily Beast writes that in the recorded message, Worsley said the first thing he would do after flying to Union Glacier, a central Antarctic camp accessible only by air, is "get a warm cup of tea and have some cake."
He was later airlifted to a clinic in Punta Arenas, Chile, where doctors performed surgery treating him for a bacterial infection in his abdomen, the Guardian reported. On Sunday, doctors announced that Worsley had "succumbed."
Worsley set out on the mission in honor of Sir Ernest Shackleton, who made three accompanied treks to the Antarctic in the early 1900s. In Shackleton's final expedition, his ship capsized, stranding his team. Beyond one-upping his lifelong hero, Worsley's journey raised money for wounded soldiers through the Endeavour Fund, a charity started by members of the British royal family. 
Even though Worsley wasn't able to complete the final leg of his journey, he succeeded in raising more than $140,000 for the cause, his wife, Joanna, noted in a statement on the fund's website.
Worsley was also a friend of Prince William. In 2011, the Duke of Cambridge agreed to be a patron of the Scott-Amundsen Centenary Race, which Worsley led in the Antarctic, the Telegraph reported. And though William's brother, Prince Harry, never attempted a trek as lengthy as Worsley's, in 2011 he asked to join the first unsupported trip to the North Pole alongside several wounded servicemen for the charity Walking With the Wounded. The expedition was made into a documentary called Harry's Arctic Heroes. 
Prince William remarked on their friend's generosity on Endeavour Fund site, stating, "Harry and I are very sad to hear of the loss of Henry Worsley. He was a man who showed great courage and determination and we are incredibly proud to be associated with him." 
He continued, "Even after retiring from the Army, Henry continued to show selfless commitment to his fellow servicemen and women by undertaking this extraordinary Shackleton solo expedition on their behalf. We have lost a friend, but he will remain a source of inspiration to us all, especially those who will benefit from his support to the Endeavor Fund."
Hear Worsley in his own words here: