Rihanna Breaks Silence on 'Anti,' Posts Photo on Twitter Hinting Imminent Release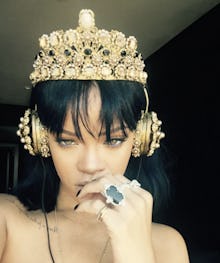 Mic/Twitter
Rihanna has finally broken her silence on her forthcoming musical project with a selfie on Twitter Monday morning, writing the caption, "listening to Anti." It would appear the Barbadian recording artist's highly anticipated eighth studio album is near completion — when it will be released, however, is still anyone's guess.
The 27-year-old is seen with gold plated headphones, as well as a matching gold crown and ring emblazoned with black gems, mirroring the theme of her album's promotional campaign, #ANTIdiaRy. Perhaps not so coincidentally, Rihanna's message to fans comes the same day Kanye West announced the completion of his album, Swish. 
Rihanna has been quietly promoting Antis release, announcing the openings of several interactive online rooms which reveal clues leading fans to prizes. Though Rihanna's typically considered one of the queens of social media, she's kept her latest project (and the selfies) under wraps for quite some time. 
"I used to feel unsafe right in the moment of an accomplishment — I felt the ground fall from under my feet because this could be the end," Rihanna told the New York Times Magazine  in an October interview. "And even now, while everyone is celebrating, I'm on to the next thing. I don't want to get lost in this big cushion of success.''
Read more:
· Inside Rihanna's #ANTIdiaRy Campaign: A Secret Room in New York Reveals Hidden Clues
The artist has already announced a world tour with fellow recording artist Travis Scott as the opening act. So, when will Anti come? Fans are hoping they have enough time to learn the lyrics before seeing the notorious bad girl begin her massive tour, and comeback to the hip-hop limelight.
Her reign as social media queen hasn't let up either — within just 20 minutes of posting her latest selfie, the tweet received well over 20,000 retweets.