Greek Islanders Are Strong Contenders for the 2016 Nobel Peace Prize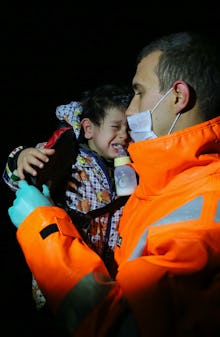 A group of international academics has signed on to a campaign to honor Greek islanders assisting hundreds of thousands of refugees with a Nobel peace prize, joining more than 300,000 others who have signed an online petition to do the same, the Guardian reports.
The petition applies to Greek citizens living on the islands of Lesbos, Kos, Chíos, Samos, Rhodes and Leros for their response to the ongoing refugee crisis in Europe, according to the campaign's petition on organizing website Avaaz.
"Since the very beginning of the refugee crisis, fishermen, housewives, pensioners, teachers — all ordinary residents of the Greek islands and other volunteers have opened their homes and hearts to save refugee children, men and women fleeing war and terror," the organizers write on the petition page. 
"They've even risked their own lives to rescue thousands from the freezing sea waters. ... Now we have a massive opportunity to help them shine their light even brighter, and show governments that people care and demand urgent action."
The migrants come from war-torn or oppressive states like Syria, Afghanistan, Iraq and Eritrea, but also include people fleeing poverty in countries like Pakistan and Somalia.
Of the more than 1 million migrants who arrived in Europe in 2015, more than 820,000 crossed into Greece from Turkey, according to the United Nations and the International Organization for Migration.
The IOM further estimates 3,771 migrants died crossing the Mediterranean during that year. Members of the Hellenic Coast Guard have received a steady wave of migrants, many of whom are making the journey in questionably seaworthy vessels.
A photo of 34-year-old Greek army Sgt. Antonis Deligiorgis saving Eritrean refugee Wegasi Nebiat from a capsized boat off the island of Rhodes went viral in April. "Why can't we stop it and where is it going to end?" Deligiorgis told the Guardian. "That is what I keep wondering because that is what we see every night on TV. A constant stream of people, desperate people, babies, children, coming in."
According to the Guardian, while towns and cities on the islands are already suffering from the ongoing Greek economic depression and residents risk official penalties by providing some forms of aid, locals have donated staggering amounts of time and resources to aiding new arrivals.
Most of the migrants are seeking to move on to countries with better economic prospects than Greece. However, thousands of migrants have become stuck in the country as other European nations adopt strict quotas for admission.
As it stands, only specific individuals or organizations are eligible to receive the Nobel Peace Prize, meaning that any award will likely need to be handed down to a more specific group than the islanders in general.