Sex and the 'African City': A Digital Series Envisions Carrie Bradshaw in Ghana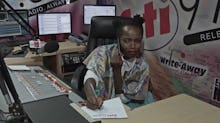 Carrie Bradshaw never made it to Africa. Though the second feature film in the beloved Sex and the City franchise was shot in Morocco, the story of Carrie (Sarah Jessica Parker) and her friends on vacation was set in Abu Dhabi. An African City, a digital series, fills in the gaps of what could have been had their destination really been Africa. 
Now entering its second season, the series follows an African woman raised in New York but living in Accra, Ghana, seemingly a world apart from that of Connecticut-born Carrie. Yet according to the show's creator, they aren't so different after all — and that's the very point of An African City.
Executive producer and writer Nicole Amarteifio launched the show in 2014 as a short-form web series designed to combat stereotypes of Africa. "There's one story we very often hear about Africa — war, poverty, famine," she told CityLab ahead of the show's second season. "But when you look at a city like Accra today, it's really cosmopolitan, hip and modern, and I wanted to put that version of the continent on the map."
Much like Sex and the City, An African City follows a group of successful women friends led by a protagonist who guides the story through voiceover, in this case MaameYaa Boafo's Nana Yaa. It's as lush in costuming and sexual frankness as its American inspiration. The similarities are not a coincidence: Amarteifio designed the series with Bradshaw in mind. "I was watching a lot of old episodes of Sex and the City, and one day I thought — this is how you fight those stereotypes, with an African version of this," she told CityLab.
Since then, An African City has become firmly labeled the "African Sex and the City." But Amarteifio doesn't shy away from the comparison. "I love it," she told Mic via email. "I don't think [Sex and the City creator] Darren Star or Sarah Jessica Parker had any idea that Carrie Bradshaw would be my inspiration for bulldozing the single representation of Africa."
Between seasons one and two, the show expanded in a major way. "We went from 10-minute episodes to 26-minute episodes," Amarteifio told Mic. "There's more character development. And, in each episode, the fashion is beautiful to watch — enough to make Anna Wintour very proud."
The first season, with 2 million total views and counting, according to CityLab, can be watched on the show's website. Season two, all 13 episodes of which launched Sunday, is available only for purchase. Only the first few minutes are available on the show's YouTube page.
In other words: Season two of An African City is a big step up. It's clear this show is here to stay and grab more than just attention. "I'm trying to start a different conversation," Amarteifio told CityLab. 
If she's successful at changing the way people talk about African cities like Accra, it will be yet another testament to the power of what a show about female friends can do — a companion to Sex and the City in yet another way.
"The friendship aspect is very important," Amarteifio told Mic. "I am a reality TV addict, but the Real Housewives franchise would have me believe that sisterhood is dead. An African City reminds me that sisterhood is very much alive."