Meet the Photographer Capturing What It's Really Like to Seek Refuge in Greece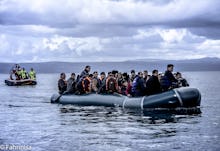 Though the Nobel Peace Prize has only previously been awarded to noteworthy individuals or organizations, the astounding humanitarian acts of the Greek people this past year could potentially warrant an exception. A group of European academics and copious supporters recently called for the prize to go to the Greek citizens who responded to the hundreds of thousands of refugees fleeing crisis-ridden nations with compassion and empathy. 
This welcome response, however, has perhaps received less media attention than have incidents of anti-refugee protests and violence. Photojournalist Fahrinisa, who witnessed these arrivals firsthand and documented them in a beautiful series of images, hopes to change that.
Raised in the Muslim faith, the 31-year-old photographer, who is completing a master's degree in journalism at Columbia University's Graduate School of Journalism, has felt a personal connection to the stories of refugees and asylum seekers fleeing predominantly Muslim nations like Syria. She also suspected the mainstream media's coverage was "either missing some aspects or inaccurate," she told Mic, and therefore decided to see what was happening for herself.
"As a photographer, my camera is pretty powerful," Fahrinisa said, adding that her decision to travel to Greece "was my way of trying to do something about the situation."
Over 1 million people sought refuge in Europe in 2015, and 820,000 of them entered Greece by way of Turkey alone, according to a United Nations and the International Organization for Migration report. The influx has only grown over time. As of December, an average of 3,300 people made the crossing every day — a steep increase compared to July's average of 1,700, according to the same report. 
The disproportionate influx, which has been deemed the largest since World War II, has generated concern among European legislators and sparked anti-refugee backlash among citizens. But fear of refugees, especially those rooted in the concern that some may be connected to ISIS or other terrorist groups, is quickly proven unfounded by simply talking to refugees and hearing their stories, according to Fahrinisa.
"First and foremost these are human beings, these are people, these are individuals," Fahrinisa said. She witnessed refugees making their imminent arrival known miles from shore, "singing out of joy" when they spotted volunteers ready to greet them on shore. She also recalled meeting other "highly educated" individuals, such as a Kurdish engineer fleeing persecution as well as Syrian newlyweds, the wife six months pregnant, seemingly optimistic despite their harrowing journey.
These interactions served as a pertinent reminder that refugees "could be any of us," should any given nation be struck by disaster, Fahrinisa said. Failing to empathize with them is impossible "when you see how desperate these people are and you hear their stories of loss and death and fear," she added.
The heroic, potentially prize-winning, response of the Greek people also left a significant impression on Fahrinisa. For example, one organization, Lifeguard Hellas, have posted volunteer lifeguards on the Greek shores 24 hours a day. Doctors and lawyers are offering their knowledge and care, and even those without specific skills are chipping in however they can. Fahrinisa met one local woman who routinely collected the wet, discarded clothes of refugees, washed and dried them, then distributed them back to new arrivals, for example.
"Their efforts have saved so many lives since the beginning of this crisis," Fahrinisa said. "They're all there on their own dime, they're volunteering. Some of them have left their work, their jobs, just to be here until they're not needed any more."
While Fahrinisa had initially planned to observe and document these events as a photojournalist, she eventually came to count herself among the volunteers. The constant influx of boats required more help than was readily available, she said, so she helped "haul women and children, and men as well out of the water" and "photographed with one hand and held a baby in the other" as their parents recovered.
"I just couldn't stand by as children fell into the water and couldn't swim," Fahrinisa said. "I wasn't a journalist in that moment, I was a human being."
While this type of contribution was life-saving, it's also only offered immediate relief, Fahrinisa said. She hopes her contribution as a photojournalist will serve a long-term purpose.
"Refugees also want their stories told and their experiences to be out in the world," she said. "If no one tells your story, it's almost as if it doesn't exist or as if what happened to you didn't happen to you."
She'll continue to tell document their experiences, she said, until "hopefully, one day soon, things will change."