Fox News Republican Debate 2016: Early Preview for Thursday Night Debate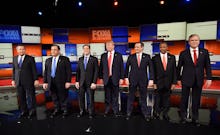 Rainier Ehrhardt/AP
The next Republican presidential primary debate hosted by Fox News Channel will take place on Jan. 28 at the Iowa Events Center in Des Moines, Iowa, just a few days before the Feb. 1 caucuses. The debate will air at 9 p.m. Eastern on Fox News; the network will also team up with Google and YouTube for the debate. 
"On the Google Trends homepage, viewers will have the chance to interact with the debate during the telecast. The page will feature real-time insights on candidate search interest, key issues and topics covered throughout the night," Fox News said in a statement. "Real-time Google Trends will be showcased during the Fox News post-debate analysis."
Read more:
The undercard debate, moderated by America's Newsroom anchors Bill Hemmer and Martha MacCallum, will air at 7 p.m. Eastern. The main stage debate will be moderated by Fox News Sunday host Chris Wallace, Special Report anchor Bret Baier and The Kelly File anchor Megyn Kelly, all of which previously hosted the Aug. 6 debate.
But presidential candidate Donald Trump would rather Kelly, whom which the frontrunner has attacked, stay home for the debate.
"Megyn Kelly has no conflict of interest," a Fox News spokesperson said in a statement provided to Mic, in response to Trump's accusation. "Donald Trump is just trying to build up the audience for Thursday's debate, for which we thank him."  
In order to qualify for the main stage debate, candidates must place within the top six nationally, or in the top five in Iowa or New Hampshire polls conducted and released before Jan 26. at 5 p.m. Eastern, according to Fox News. 
To qualify for the undercard debate, presidential candidates must register within at least 1% in any of the five most national polls recognized by Fox News.
The two-hour debate will have coverage on Fox News Radio, Fox News Mobile and FoxNews.com.