What to Expect in the 7th Republican Debate, According to Bret Baier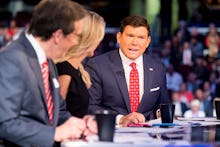 The 2016 Republican presidential debates to date have been about as muted and reserved as your average monster truck show.
While they've been heavy on fireworks between the candidates, certain topics of outsize importance to young voters in particular have sometimes gotten short shrift in the GOP showdowns. Among them: the threat of homegrown right-wing extremism, climate change, police brutality and student debt.
Thursday's debate, hosted by Fox News Channel, will be the seventh of the cycle and the last before Iowa voters caucus on Feb. 1 — with or without frontrunner Donald Trump, who insists he's skipping it.
In an interview with Mic, moderator Bret Baier said younger viewers will hear questions about topics that haven't come up in previous forums.
"Issues that are important to millennials, that you see in polls that they're asked about, they will be asked in this debate," said Baier, host of Fox News' Special Report.
"We're trying to get them off their talking points, so it's not going to be boring."
"Things that haven't been asked before are going to be asked," Baier told Mic. "We're also teaming up with Google, and there'll be some interactions with [some] high-profile figures on YouTube [who] will ask questions."
A December Pew Research Center study found 58% of those under 30 said they had watched a presidential debate, compared to 72% of those 30 and older. Members of the younger set were more likely to call the debates "fun to watch."
A more recent Pew study found significant generation gaps on issues, with younger voters substantially more interested in education, climate change and the environment than their older counterparts.
Star power: The candidates and the Fox moderators won't be the only ones on the airwaves Thursday. They'll be joined by three YouTube sensations, who will each ask a question on "an issue that matters to them and their communities," according to Google.
Nabela Noor, 24, is the New York-born daughter of parents who came to the United States from Bangladesh, according to YouTube. The bubbly fashion, beauty and DIY maven has racked up about 146,000 YouTube subscribers. Her video commentary isn't limited to the latest in drugstore makeup or wedding planning: She has also spoken out about her Muslim faith and the need for tolerance — something she says she hasn't always experienced in her own life.
Mark Watson has attracted about 769,000 fans to his channel, Soldier Knows Best. The Army vet served as a signal officer for eight years, carrying and expanding his enjoyment of technology from the military to the civilian life by way of tech reviews.
Finally, there's Dulce Candy, who boasts 2 million subscribers to her channel's offerings of look and lifestyle tips. The small-screen star came to the U.S. from Mexico as a 6-year-old girl and went on to serve with the military in Iraq and to become an American citizen and a mom.
Mano a mano: "In one way or another, we're going to deal with the issues millennials care about, I guarantee you," through the partnerships with Google and YouTube as well as good old-fashioned questioning and encouragement of interaction between the candidates, Baier told Mic. "I think both parties are going to deal with those issues, and you're seeing that on the campaign trail play out."
"There's a lot of anger about Washington. On the left, there's I think disappointment over things that didn't get done," Baier said. "On the right, there's anger at even [the] Republican Congress that they don't feel has stood up to the administration effectively."
Bad blood? Fox started the debate season with a bang in August when moderator Megyn Kelly, host of Fox's The Kelly File, pressed Trump on his past misogynistic comments, including having called women "fat pigs, dogs, slobs and disgusting animals." Trump went off on Kelly afterward in signature style, saying she'd had "blood" coming out of her eyes and her "wherever" during the questioning in Cleveland. 
Over the weekend, Trump revived his complaints about Kelly — who will run the debate along with Baier and Fox News Sunday host Chris Wallace — on Twitter with mere days to go before debate at the Iowa Events Center in Des Moines.
On Tuesday Trump stopped the teasing and dropped the hammer, saying he'd forget the debate and host a competing Iowa event to benefit wounded veterans.
Baier, who spoke to Mic before Trump popped off on his co-host, acknowledged the Trump-Kelly issue had come up in prep sessions for the Thursday debate, which will run from 9 to 11 p.m. Eastern.
"Listen, we're going to go in treating Mr. Trump just like every other candidate on the stage, but I'm not going to lie to you [and say] that we haven't thought about the moment that Megyn and Donald Trump [had] when she asked him [her] first question," Baier said. 
Trump had been milking the Kelly issue for days, on Tuesday spinning out an Instagram video questioning the Fox host's impartiality and conducting a Twitter poll on whether he should attend the debate at all.
In the Republican field, polls show Trump leading the pack, but getting some competition from Texas Sen. Ted Cruz. 
The two had some particularly sharp exchanges during the Jan. 14 GOP debate in North Charleston, South Carolina, and Baier said there could be more pyrotechnics, "We're trying to get them off their talking points, so it's not going to be boring."
Trump has clearly improved as a candidate since cannonballing into the race in June, said Dan Schnur, director of the Jesse M. Unruh Institute of Politics at the University of Southern California.
Typically by this point in the cycle, "candidates know their stump speeches and talking points by heart, and they know how to talk about them in 30-second and 60-second and 90-second increments without much help," Schnur — himself a veteran advisor of four presidential campaigns — told Mic. 
Now it's on to the more challenging stuff, what Schnur calls "reactive messaging," otherwise known as answering the tough questions. "My goal was always to make sure that my candidate never heard a question from a moderator or an opponent before they heard it from me first," he said.
Trump certainly doesn't need an eleventh-hour fumble or embarrassment before the first-ever votes are cast for him, so he's arguably making a smart tactical move by skirting the debate.
Opportunity knocking: If Trump keeps his word and doesn't show, that leaves Cruz as the frontrunning participant and gives all the other candidates more airtime to make their pitch — and try to bring up issues that haven't yet gotten a lot of debate time, but could play well with target voters.
Campaigns hunker down ahead of debates and decide "what do you think, based on your internal polling, are the points you need to make to score more voters, and you need to make those points — regardless of what question you get," Frederick Ahearn, former advisor to 12 presidential campaigns and five presidents, told Mic. 
"That's what you should do in every single debate," he said.
Ahearn, who was at President Ronald Reagan's side as his special assistant during the 1981 attempt on the then-president's life, said if younger voters are not hearing about the topics that mean most to them, it's up to the candidates to raise those issues personally from the debate podium.
"If you're asked about Paris," he said as an example, "you give a quick answer on Paris — and then you pivot to the environment, if that's what you want to make a point on. [You say], 'Megyn, here's my answer on that, but nobody's asked me this, and I want to make this point.'"
Your voice? Not only the candidates and YouTube sensations will get their say on debate night, Google noted.
"You'll also be able to answer polling questions about the issues that matter to you directly on Google Search when you search 'Fox News debate.' Fox News will cover responses to these questions on air after the debate," the tech giant said in a pre-debate release.
Overall, "I do think that young people have the opportunity [to] play a significant role," Baier told Mic.
With many voters, including and perhaps particularly the youngest, disenchanted with traditional polls and pols and "maybe looking for authenticity," he said, there's been a "sea change. 
"I think we're tapping into some of that [with] the way we're raising question," Baier said. "For us, it's fun — and hopefully that comes across on the screen."
Thursday's primetime debate begins at 9 p.m. Eastern and will feature Cruz, Marco Rubio, Ben Carson, Jeb Bush, Chris Christie, John Kasich and Rand Paul.
The 7 p.m. "undercard" debate includes second-tier candidates Carly Fiorina, Mike Huckabee, Rick Santorum and Jim Gilmore.