Zika Virus Outbreak 2016: Is It Safe to Travel? Latest Travel Advisories From the CDC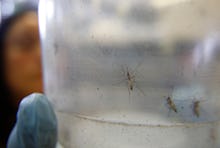 Andre Penner/AP
Reports of Zika virus, a mosquito-transmitted illness believed to be causing widespread birth defects in Brazil, have moved the Centers for Disease Control and Prevention to issue a series of travel warnings for people planning on visiting affected countries. So what does the Zika outbreak really mean for travelers to any of the 21 countries in which the virus has been detected?
So far, the CDC has issued Zika virus-related travel warnings for most of South America and Central America, including Brazil, Mexico and Guatemala, as well as Samoa, Cape Verde, parts of the Caribbean and Puerto Rico. Because there is currently no vaccine to prevent Zika, and no cure either, the CDC recommends that travelers to the affected areas do everything possible to prevent mosquito bites, including wearing long sleeves and long pants, applying insect repellents that contain DEET and sleeping in "screened-in or air-conditioned rooms."
Read more:
° The Zika Virus iIs No Longer Just Brazil's Problem: Here are 5 Things You Should Know
"Around 80% of [Zika virus] infections do not result in symptoms," the BBC reported, and among those who contract the virus and do experience symptoms, they may include "mild fever, skin rash (exanthema) and conjunctivitis," according to the World Health Organization.
The real danger may occur when pregnant women contract the virus, exposing their babies in utero. Zika virus is suspected to be the cause of an recent increase in Brazil of babies born with microcephaly, or abnormally small brains.
"Although a causal link between Zika infection in pregnancy and microcephaly has not, and I must emphasize, has not been established, the circumstantial evidence is suggestive and extremely worrisome," WHO General Director Margaret Chan said in an announcement to the WHO's executive board, according to Reuters.
The tentative link between Zika virus and microcephaly in newborns has led the CDC to issue specific travel warnings for pregnant women — including "postponing travel to any area where Zika virus transmission is ongoing."
"Zika virus can be spread from a pregnant woman to her unborn baby. There have been reports of a serious birth defect of the brain called microcephaly and other poor pregnancy outcomes in babies of mothers who were infected with Zika virus while pregnant," the CDC warns on its website.
So far, the CDC has marked the Zika-related travel notices at a "Level 2," advising travelers to "Follow enhanced precautions for this destination."
Correction: Jan. 25, 2016
A previous version of this article incorrectly stated that the CDC issued a travel warning for all of South America and Central America, as well as the Caribbean. The CDC advises travelers to take precautions in 19 countries in the Americas.