"Chelsea Does Marriage": Full Recap and Reactions to Episode 1 of 'Chelsea Does'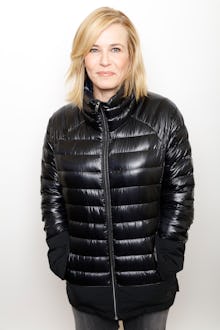 Matt Sayles/AP
The latest Netflix debut that's got viewers stuck like glue to the streaming site is Chelsea Does, a four-part documentary series from comedian Chelsea Handler. During the first episode of the series, "Chelsea Does Marriage," Handler meets with celebrity wedding planner Colin Cowie, sits down with clinical psychologist Steven David, invites a pair of matchmakers to her house, interviews a group of children about relationships, tags along on a bachelorette party and even attends a couples workshop where she participates in several exercises. All these and other investigative exploits play out during the series' first episode, all in the name of unpacking conscious coupling. 
"Chelsea Handler is going there," reads a description of the episode on YouTube. "In her new four-part documentary series, Handler is asking the questions that we all have but are too afraid to ask." A description of the episode on Netflix states, "As she tries to decode the laws of attraction and commitment, Chelsea turns to an old flame, a Vegas wedding guru and the founder of Ashley Madison."
"I'm trying to understand why people do this," Handler says during the episode, by way of explaining her choice of subject. 
Read more:
In perhaps the most outrageous interview of the episode, Handler visits a BDSM dungeon and talks with three people in a polyamorous relationship about their sex life.
"People are really into some weird shit," Handler says after the interview. "I don't want that. That is not palatable to me at all. I'm disgusted by it. I don't mean to be, because it's judgment, but I am."
"I mean, I don't want anything bad to happen to them," Handler adds. "I just don't want to see them."
The BDSM interview isn't the only time Handler is noticeably disgusted on screen. The episode features a sit-down interview with Noel Biderman, the founder and CEO of Ashley Madison, which is the dating website built to facilitate hookups for those looking to cheat on their partners. The website made headlines in the summer when a massive data hack caused information about its users to be leaked to the public. In the exchange with Biderman, who is joined by his wife during the interview, Handler lays into Biderman about his personal life and asks about his propensity to cheat on his wife. 
Reacting to the episode, many users on Twitter had stellar things to say about Handler's take on love and marriage.
Netflix's latest original series premiered on Friday, and the show boasts episodes in which Handler digs into Silicon Valley, explores drugs and attempts to unpack systemic racism. Here's the trailer for the Netflix documentary everyone's talking about:
Correction: Jan. 25, 2016