Chuck Grassley 2016: Platform and What You Need to Know About Republican Senator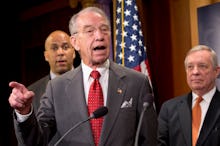 Jacquelyn Martin/AP
Iowa's incumbent Republican Sen. Chuck Grassley — one of the senate's eldest members at 82 — will seek re-election for another six-year term in November. Though four Democratic candidates have since announced bids of their own, they face a tall task in usurping Grassley. He has held office since 1981, and has statewide support from both political parties. 
According to a state poll by Quinnipiac University, released in July, Grassley had a 68% approval rating (only 21% did not approve) in the Hawkeye State, while 54% of Iowans said he deserves re-election in 2016. "Iowans seem to like their political leaders, with U.S. Sen. Charles Grassley looking like a strong reelection bet and U.S. Sen. Joni Ernst off to a good start," Peter A. Brown, assistant director of the Quinnipiac University poll, said in a statement. "Even four in 10 Democrats think Grassley deserves another term." 
Read more:
Furthermore, in a rural state, Grassley has emphasized agriculture and rural development, where the state is the country's leading producer of pork, corn, soybeans and eggs, according to Grassley's senate page. "His leadership positions on the Senate Finance, Judiciary, Agriculture and Budget Committees provide a unique opportunity to shape tax, international trade, regulatory and spending policy that will shape the future of farming in the 21st century," according to his senate page. 
It's this rural focus that gives Grassley such statewide appeal, as he's the only member of the U.S. senate who is still an active farmer (which, given his age, is very impressive). 
"He will keep Iowa in the national focus on key issues," GOP strategist Robert Haus said, according to the Des Moines Register. "As the only active farmer in the Senate, he'll be a powerful voice for American agriculture and our farmers who feed the world. He will also continue to serve as a great role model for every other U.S. senator. If there were 99 other Chuck Grassley's in the U.S. Senate, our Congress would be a lot more productive."
What's more, Grassley has continued to visit Iowans on the campaign trail at a blistering pace, and will visit 99 counties as part of his re-election tour, according to the Sioux City Journal. "Grassley is considered the gold standard for how to keep contact with the people he represents," Bret Hayworth wrote for the Journal. "Some Iowa lawmakers and candidates have taken on his 99-county tour practice, and they readily point to Grassley as the originator."
This has translated to the senate floor, where he recently set the record for the longest time without missing a senate vote in 22-and-a-half years, according to the Washington Post. "You could argue the record Grassley now holds is an arcane one that only political nerds in Washington tally up," Amber Phillips wrote for the Post. "But you could also argue Grassley's vote streak gets to the heart of how Congress works. At the basic level, we send our lawmakers to Washington to do what Grassley has done for 22 years — cast votes for us on some of the nation's biggest (and smallest) issues."
If nothing else, Grassley's longevity serves as a primary challenge for any Democratic candidate who runs against him. After all, the senator knows where his priorities lie: the people of his state. "I'm one half of the process and the people of Iowa are the other half," Grassley said in a press release, according to the Journal. "You can't have representative government without dialogue between elected officials and the people we represent."