'Making a Murderer' Prosecutor Ken Kratz Wants Steven Avery to Confess for Tell-All Book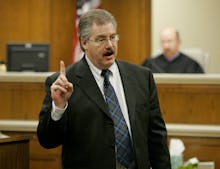 Morry Gash/AP
If Making a Murderer fans didn't already hate the true-crime documentary's prosecuting attorney Ken Kratz, who many believe framed Steven Avery for a murder he's serving a life sentence for, Avery's new attorney Kathleen Zellner sealed the deal by tweeting a questionable letter Kratz allegedly wrote to Avery asking him to confess so he could write a book about it. According to the Wrap, Kratz is writing a book about the case — one he said he hopes would prove Avery's guilt. 
"This bloodsucking gives vampires a bad name," Zellner wrote on Twitter Sunday along with a copy of a letter Kratz allegedly wrote to Avery in September asking the convict to be "honest" with him for a book he wanted to write about the case. According to the letter, Kratz was responding to Avery's prior request that his team check the evidence again to show he'd been set up for the 2005 murder of Teresa Halbach — but Kratz rejected the request and instead essentially asked Avery to stop his "nonsense."
Read more:
"I apologize for misunderstanding your letters from a couple years ago, as I thought you were interested in being honest about what happened and finally telling the whole story to someone," Kratz wrote, according to Zellner. "Since I'm the person who probably knows more about your case than anyone else, I hoped that you would choose me to tell your story to."
Katz insisted Avery wasn't set up and urged him to confess so that people could see both sides of the story. "By the way, the difference between you and famous convicted murderers from the past is they told their whole truthful story to someone, who then wrote a book about what actually happened and people got to understand both sides. I was willing to do that for you."
"I believe somebody needs to stand up for the cops, the courts and the victim by telling the truth and setting forth the vast amount of evidence proving Avery's guilt beyond a shadow of a doubt," Kratz told the Wrap in an article published Monday. "I'm honored to share a portion of the proceeds of this book honoring the memory of Teresa Halbach."
Making a Murderer was released on Netflix a few months after the date on the letter. The series highlighted Avery's side of the story without the apparent bias of prosecutors.