Twitter Defends Cam Newton From "Thug" Name-Calling After Carolina Panthers Win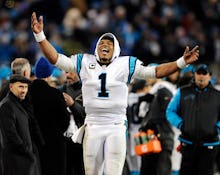 Mike McCarn/AP
After the Carolina Panthers defeated the Arizona Cardinals in the National Football Conference championship game Sunday, the usual suspects took to Twitter to lambast Panthers quarterback Cam Newton. Some expressed their annoyance with what they said was the 26-year-old quarterback's "arrogance" or his "classlessness" every time he celebrates a touchdown. Others weren't as subtle, describing the Georgia native as a "gangsta" or "thug."
Read more:
Panthers fans, football supporters and people who generally disapprove of such mudslinging came to the superstar's defense after the football win. 
Some social media users pointed out that Newton, who won the 2010 Heisman Trophy, participates in various charity projects under his Cam Newton Foundation, which helps support underprivileged youth. Most recently, he spent five hours driving around Charlotte, North Carolina, during the holiday season, wearing a Dabbing Santa sweater and giving gifts to children in schools and neighborhoods, according to People Magazine.
Newton also visited family members of the victims of the Charleston, South Carolina, shooting, and donated $150,000 to three Charlotte-area schools — actions that are quite opposite of what "thugs" do, his defenders said. The Carolina Panthers will play the Denver Broncos in Super Bowl 50 on Sunday, Feb. 7, at Levi's Stadium in Santa Clara, California.