The iPhone 5se, Essentially a Smaller iPhone 6, May Be Released in March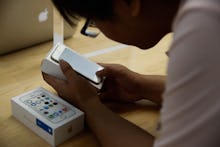 Lintao Zhang/Getty Images
Tech giant Apple may be releasing the iPhone 5se, an "enhanced" version of the iPhone 5s, for those who want the amenities of the iPhone 6 and 6s without the 5.4-inch size, go-to Apple reporter Mark Gurman wrote for 9to5mac.
According to Gurman, Apple is about to announce the 4-inch iPhone 5se, to be released in March or April and include several iPhone 6 features such as curved glass edges and 8-megapixel rear camera. The device name means "special edition" or "enhanced" 5s, Gurman reported, and the 5s will likely be discontinued upon its release.
Read more:
Here are the upgraded features the iPhone 5se will likely have over the iPhone 5s, multiple sources told Gurman:
• Curved glass edges like the iPhone 6 and 6s
• 8-megapixel rear camera and 1.2-megapixel front camera like the iPhone 6
• Ability to take wider panorama photos and autofocus for video 
• Barometer in Apple's Health app that measures elevation
• Apple Pay
• A9 and M9 chips — the M9 includes the always-on Siri option allowing users to activate Siri by simply saying, "Hey Siri"
• iPhone 6s-quality Bluetooth and Wi-Fi chips
• Live Photos like the iPhone 6s 
• Silver, space gray, gold, and rose gold colors like the iPhone 6s
• A 16 GB and 64 GB storage space option (the 5s allows up to 32 GB)
Apple is also reportedly gearing up to release the iPhone 7 in September, which rumors suggest won't have the 3.5-mm headphone jack, opting for Bluetooth headphone capability or another type of connection. Other rumors include waterproof and dust-proof design and enhanced wireless "Li-Fi" internet speed that is 100 times faster than Wi-Fi. 
Jan. 25, 2016, 5:14 p.m. Eastern: This story has been updated.
Correction: Jan. 25, 2016