This Breakthrough Technology Is Turning Plants Into Electricity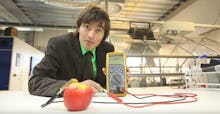 Davos, Switzerland — Every year, the world's most powerful people come together in Davos with the lofty goal of "improving the state of the world" at the annual meeting of the World Economic Forum, and every year, media pundits criticize the gathering as an excessive and increasingly irrelevant spectacle.
Surely, there's one side of Davos that's all about the high life: wining and dining with the rich and famous, excessive late-night partying at the Piano Bar. But there's another side that truly lives up to its billing, and that is the opportunity to meet a group of some of the most passionate and inspiring business leaders and entrepreneurs who are tackling the world's biggest problems.
One of those people is Marjolein Helder, a Dutch entrepreneur and the CEO of Plant-e, an environmental technology startup with a bold mission: to generate clean electricity from plants.
That may sound like science fiction, but the breakthrough technology behind Plant-e could transform the way the world gets electricity. And it's already starting to work. 
Helder is on the verge of producing literally green electricity.
Here's how it works: Helder, who is attending Davos as one of this year's elite group of WEF Technology Pioneers, started her work in this field back in 2012, after graduating from Wageningen University. At the time, she was a Ph.D. candidate, studying how to produce electricity using living plants. When she realized she had stumbled upon potentially groundbreaking technology, Helder teamed up with co-founder David Strik and launched Plant-e. The Netherlands-based company has since grown to five full-time employees.
The technology behind Plant-e is actually quite simple, Helder told Mic. "We make use of the natural processes in and around the plant," she said.
According to Helder, when plants undergo photosynthesis, they produce organic matter. About half of that matter travels via the plant's roots down into the soil. Once in the soil, naturally occurring bacteria around the plant's roots feed on the organic matter and use it to grow. But in the process, the bacteria also release electrons as a waste product into the soil.
That's where Plant-e comes in. The company places a carbon electrode into the soil to capture these electrons, and connects that electrode to a second counter-electrode to build an electrical circuit. This circuit acts like a powerful battery and can generate electricity.
Watch how Plant-e works here:
What it could do: Helder is confident this first-of-its-kind technology has unlimited potential. In contrast to other clean energy sources that still bring environmental risks — like wind power does — Plant-e's method of generating electricity is fully clean and sustainable. Because all that's needed is sunlight, water and CO2, Helder says, Plant-e has absolutely no environmental cost attached to it.
"With the increasing world population and the increasing demand for energy — specifically electricity — the pressure on our lands is getting higher," Helder told Mic. "We need to move to multipurpose land use, and that's exactly what our technology can do."
Helder says Plant-e has already released several products, including a do-it-yourself starter kit launched in 2014 that allows customers to build their own battery from a plant in their home. But she's most excited about an upcoming project, currently being piloted. It constitutes a series of tubes that will run underground and can produce electricity from any existing wetland.
If it works, Helder says Plant-e has the potential to have the unintended effect of incentivizing the world to protect our natural resources.
"This gives a whole new dimension for how to use nature," Helder told Mic. "Right now, our natural resources are very valuable, but they are not monetized. As soon as you can produce electricity without harming the land, with no environmental costs but with obvious economic benefits, then everyone will want to preserve these natural resources."
What's next: Helder has no pretension that she alone will fix the world's energy crisis. "I don't think that one small company of five people in Wageningen, the Netherlands, is going to revolutionize our energy production," Helder wrote in a column for the WEF.
But she says will will not stop until the technology that powers Plant-e is so widespread that it can be placed underneath wetlands anywhere in the world. If it works, Plant-e will also be able to be placed on rooftops of buildings and could generate much of the electricity that powers your home.
"That's our vision, that's where we want to go," Helder told Mic.