'Grease Live!' Preview, Premiere Date and More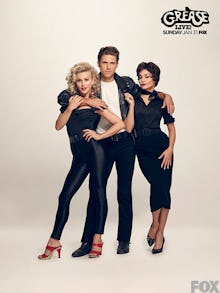 FOX
Get your hot rods ready, because Grease: Live! will air on Fox this coming Sunday, at 7 p.m. Eastern. The three-hour, live production of the '50s-themed musical will star Dancing With the Stars' Julianne Hough as Sandy and Graceland's Aaron Tiveit as her bad-boy love interest Danny Zuko.
High School Musical's Vanessa Hudgens will play Rizzo and "Call Me Maybe" singer Carly Rae Jepsen will play Frenchy. The cast also includes Keke Palmer, Kether Donohue, Carlos Penavega, David Del Rio and Jordan Fisher.
The original musical, "Grease," premiered in 1971 and was popularized by the 1978 film adaptation starring Olivia Newton-John and John Travolta.
Grease Live! isn't the first time a major network has put on a live musical for TV audiences. Fox may be taking a cue from NBC, which aired its most recent TV musical event, The Wiz Live, back in December.
In preparation for the show on Sunday, the Fox website features a downloadable songbook for viewers to follow along with the musical numbers from home, as well as a link to preorder the soundtrack, which will be released on Sunday, the same day that Grease: Live! airs.