Rob Hogg 2016: Platform and What You Need to Know About Democratic Senator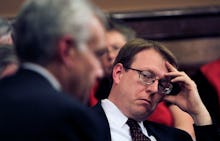 Charlie Neibergall/AP
Though Iowa will be in the national spotlight with the first major electoral event of the 2016 presidential election — the state's Feb. 1 caucus — Iowans will also have a U.S. Senate race in November. Incumbent Republican Sen. Chuck Grassley will seek re-election in the Senate; if he wins, he would be 89 by the time the next term ends. 
However, four Democratic candidates have announced bids to usurp Grassley, and while all of them face a tough task ahead, Rob Hogg might stand the best chance of the bunch. 
Read more: 
An Iowa state senator and Cedar Rapids native, Hogg began an initial exploratory committee in July and highlighted a need to improve several issues Iowans currently face, such as social security and Medicare, employment and addressing the nationwide issue of climate change, according to the Des Moines Register. 
"We have a clear need for our Congress to work better on a whole range of issues," Hogg told the Register. "I think I'd do a good job at that, but I want to talk to Iowans to see if they're supportive."
Hogg's succeeded, thus far. After he formally declared his senate bid in September, Hogg's team announced that they were able to raise $120,000 in campaign contributions on Thursday — overall, a strong sign that the Democratic candidate has some support in the Hawkeye State. "We believe that by opening a campaign office and by raising over $100,000, we have shown that this is a serious candidacy," said Ann Poe, Hogg's campaign manager, according to Blog for Iowa. "Iowans are ready for change to get Congress to work again." 
Hogg's most extensive experience is with issues of climate change, as he's routinely highlighted it as an area of importance and a real, substantive issue Americans need to rally behind. This was first inspired in 2008, when Cedar Rapids experienced significant flooding and widespread damage to local homes. "We had buildings that had 10 or 12 feet of water through them, 5,000 homes were flooded," Hogg said, according to Grist. "That was the moment I went all in on climate change, because there are real consequences for real people."
According to his campaign page, the senator formed an all-volunteer advocacy group in 2011, the Iowa Climate Advocates, to further educate the public on the long-term dangers of climate change. He also authored a book in 2013 on climate change, America's Climate Century: What Climate Change Means for America in the 21st Century and What Americans Can Do about It. 
However, if he's able to get through his three Democratic colleagues who have also announced bids — Iowa state Sen. Tom Fiegen, former state Reps. Bob Krause and Ray Zirkelbach — Hogg will still have an uphill battle against Grassley. Not only has the senator held office since 1981, but he has statewide support from Iowans, including the Democratic party. According to a state poll by Quinnipiac University released in July, Grassley has a 68% approval rating in the state. "Even four in 10 Democrats think Grassley deserves another term," Peter A. Brown, assistant director of the Quinnipiac University poll, said in a statement. 
Additionally, the initial glut of Democratic candidates might further hurt their respective bids, as the liberal support will be stretched out among them. Based on his experience, though, Hogg may stand the best chance against Grassley. "I struggle to understand why Zirkelbach would run for Senate when we already have three progressive Democrats in the field, including one (Hogg) with a much stronger background of legislative accomplishments," Bleeding Heartland — an Iowa-based political blog — wrote. 
In the meantime, Hogg will continue to rally support until the Iowa Democratic primary in June, and with it, a better indication of his overall U.S. Senate chances.