Gina Rodriguez Just Made a Bold Statement About the Oscars — And Oscar Isaac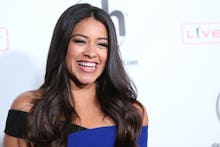 Jane the Virgin star Gina Rodriguez knows how to stick up for her gente. 
In a WhoSay post that she then tweeted to her followers, the Golden Globe winner heaped praise onto one of the hottest actors in Hollywood right now: fellow Latino Golden Globe winner Oscar Isaac. But, she also made a bigger point about diversity at the Oscars and how Latinos fit into it.
"With all this Oscar talk and lack of diversity, I decided to start a movement and speak from the perspective of a Latina American who desires to see more Latinos on screen," Rodriguez wrote. 
Isaac was one of the stars of the box-office bonanza Star Wars: The Force Awakens, as well as indie darling Ex Machina. 
Rodriguez said that the 55 million Latinos in the United States, of various backgrounds, should unite to support Latino work. "[S]upport is needed. Right now there isn't one Latino that can greenlight a movie. That means no studio will put their money behind a Latino face as a lead of a movie because they don't believe we can make their money back."
Rodriguez went on to say that Latinos can make a difference by supporting art that includes Latino actors. 
"Oscar Isaac, in my opinion had an Oscar worthy performance in [Ex Machina]," she wrote. "Let's start making noise with where it matters most, where we put our dollars." 
Rodriguez is the latest in a long line of stars — including Reese Witherspoon, Viola Davis, Jada Pinkett Smith and Spike Lee — to speak out about the lack of diversity in Hollywood, with the latter two saying they will skip the 2016 Oscars ceremony. 
And her comments follow other Latino stars who have spoken out about diversity. In 2015, actress America Ferrera, who the Golden Globes mistook for Gina Rodriguez during their nominations telecast, took several swipes at the lack of diversity in Hollywood. 
At the Golden Globes on Jan. 10, Ferrera and actress Eva Longoria, both heading sitcoms on NBC, poked fun at the mistake with a comedy act about Latina actresses in Hollywood. 
In 2015, Ferrera spoke to the Huffington Post about her wishes for a more diverse offering from Hollywood studios. "I'm a huge lover of television and of film — I have been my whole life — and when there's too much of the same thing and not enough to reflect the world that I live in, I take it personally," she told the Huffington Post. 
Rodriguez posted the statement as a call for other Latinos — and non-Latinos — to shout out their favorite Latino actors, for what she called #MovementMondays. 
Of course, Rodriguez also spoke about the importance of Latinos in 2015 from the Golden Globes stage, when she won the award for Best Actress in a Comedy Series. 
"This award is so much more than myself," Rodriguez said. "It represents a culture that wants to see themselves as heroes." She then thanked her parents for giving her the chance to dream. 
"Thank you to my mom and dad for telling me to dream and to never stop dreaming," she said. "My father used to tell me to say every morning, 'Today's going to be a great day, I can and I will.' Well, Dad, today's a great day. I can and I did." 
If Rodriguez has her way, every #MovementMonday is about to be a great day.
Watch Rodriguez's full Golden Globe speech below.