Rihanna's Dolce and Gabbana Headphones in Her New Twitter Photo Are Worth Nearly $9,000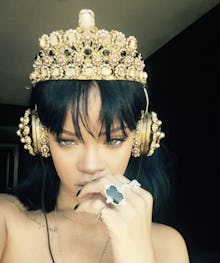 Twitter
Rihanna fans were given a small gift Monday morning when the recording artist teased on social media she was listening to her forthcoming album Anti. The notorious bad girl announced her return to the music limelight in pure RiRi fashion — in the form of a fire selfie, complete with a gold-plated crown attached to some drop-dead gorgeous Dolce and Gabbana headphones. 
Surprisingly, the headphones aren't custom-made — a non-Rihanna human being can actually buy the headset for a mere $8,895 on the Dolce and Gabbana website. Don't worry, the express shipping is free!
Read more:
Her "navy" is well aware of the Barbadian beauty's fondness for Swarovski crystals: During a notoriously nude appearance at the 2014 Council of Fashion Designers of America awards, the now-27-year-old artist quieted naysayers commenting on her exposing outfit, saying, according to the Independent, "Do my tits bother you? They're covered in Swarovski crystals, girl!"
It would seem her love for the precious stones hasn't dissipated, as she effortlessly matches the headset with a gold and black ring shown off in the recent Twitter post. Within hours of posting the photo, Rihanna's first Twitter selfie since announcing the #ANTIdiaRy campaign received more than 100,000 retweets.
RiRi has already appeared in a commercial promoting the Grammys and is rumored to be performing new music at the highly anticipated awards show. "I'm worth the wait," Rihanna says in the promotional bit, which advertises Super Bowl 50 as well as the Grammys and the Late Show With Stephen Colbert.
Well, Rihanna, we're ready and waiting — though most of us will be using plain white earbuds to listen to Anti.