Obamacare Deadline 2016: The Date to Enroll in Health Care Is Fast Approaching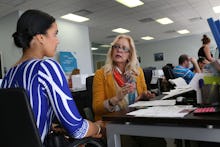 Joe Raedle/Getty Images
The final week to get health insurance coverage for 2016 is here. In order to receive coverage, residents must enroll in a health care plan by Sunday, Jan. 31. After Jan. 31, enrollment will be closed for the remainder of the year, according to the U.S. Centers for Medicare and Medicaid Services. 
The deadline to sign up for Feb. 1 health care coverage was Jan. 15. Enrollments or changes between Jan. 16 and Jan. 31 will go into effect March 1, according to the centers.
"We saw unprecedented demand for Jan. 1st coverage and continue to make steady progress signing up new customers as open enrollment proceeds," Sylvia Burwell, Secretary of Health and Human Services, said in a press release. "We are focused on educating customers about the affordable options at HealthCare.gov and providing them the help they need to make the best coverage choices."
Read more:
If the Jan 31. deadline is missed, United States residents aren't able to enroll in a health care plan unless they qualify for a special enrollment period, which gives citizens 60 days to enroll outside of the regular enrollment period. 
Anyone is able to use the Health Insurance Marketplace to enroll in a health insurance plan, as long as they live in the U.S., are a citizen of the U.S. or a lawfully present citizen, and aren't in jail. 
A person can apply four ways: via telephone, online, in person or with a paper application. As of Jan. 7, more than 11.3 million people have signed up for health insurance coverage throughout the United States, according to the U.S Department of Health and Human Services.
"We're seeing unprecedented demand for Marketplace coverage with more than 11.3 million people signed up for coverage," Burwell said in a statement. "We're encouraged that Marketplace consumers are increasingly young, engaged and shopping for the best plan. We have more work to do before the next deadlines and our focus continues to be the consumer experience and educating consumers about available financial assistance and their choices."
The Marketplace covers several health care services by law, with emergency services, ambulatory patient services, hospitalization and prescription drugs among them.