Watch This Haunting New Mashup Video of Sia's "Breathe Me" and Major Lazer's "Lean On"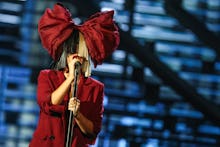 Rich Fury/AP
A pair of musicians in Brooklyn, New York, just released a haunting mashup-cover and music video of Sia's ballad "Breathe Me" and Major Lazer's electric "Lean On" and it sounds both hauntingly beautiful and nothing like either original song. 
Emmy Wildwood and Nik Lokensgaard, of Bredahl, were inspired to create the mashup after Bredahl produced Wildwood's eerie song "Scream," which was played in teasers for the Fox show Scream Queens, the Daily Dot reported. The song features Lokensgaard and Wildwood swapping lyrics to "Breathe Me" and "Lean On" over a consistently slow, evocative melody. The accompanying music video, created by Brooklyn artist SS Powell, is dark and hypnotizing. 
Read more:
Wildwood told the Daily Dot the decision to mash the two popular songs came naturally. "I've been a huge fan of Sia's songwriting since 'Breathe Me,' and we both really loved the Major Lazer song 'Lean On' that happened to be in heavy rotation at the time," she said. 
"We noticed that the themes in the lyrics to both songs worked together really well and could even build on each other. Musically, the two songs are very different styles which made it fun to come up with an arrangement that was something new but also felt like something that could have been used in either of the original songs."