Ian McKellen Says the Film Industry Ignores LGBTQ People — Here's Why He's Right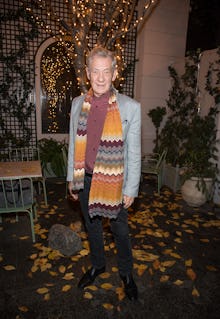 In the past few weeks, the main charge lobbed at the Academy of Motion Picture Arts and Sciences has been that its nominee pool for the past two years has been frustratingly monochrome. Monday, Sir Ian McKellen voiced his own frustrations about how the awards show — and Hollywood at large — treats LGBTQ people.
"It's not only black people who've been disregarded by the film industry. It used to be women; it's certainly gay people to this day," he said in an interview with Sky News. "And these are all legitimate complaints and the Oscars are the focus of those complaints, of course."
McKellen is right: Not only was this year's crop of Academy Award nominees incredibly white, it was also nearly filled to the brim with heterosexual and cisgender stars and stories. This is reflective of the film industry as a whole — one that still has quite a ways to go in how it tells queer stories.
Among this year's 20 acting nominees, not one is openly LGBTQ. Yet, three were nominated for playing LGBTQ characters: Cate Blanchett and Rooney Mara as lovers in Carol and Eddie Redmayne for playing a trans woman in The Danish Girl. 
The latter is notable, for Redmayne is the first performer to be nominated for playing a trans character since Jared Leto won for his role in Dallas Buyers Club. Tangerine, an independent film released earlier this year, features two trans women of color (Kitana Kiki Rodriguez and Mya Taylor) playing trans women. The film's studio, Magnolia Pictures, pushed both for awards contention; neither got Oscar nods.
Meanwhile, Carol earned six Oscar nods without nominations for either best picture or its openly gay director, Todd Haynes. This makes it the most nominated film to not be a best picture nominee since the Academy expanded the number of best picture nominees beyond five in 2009. This year's best picture nominees Brooklyn and Room each earned fewer overall nods.
These facts mean a couple of things. First, it is still far easier to get nominated as a straight, cisgender performer playing queer or trans than it is for a queer or trans performer to be nominated for playing any kind of character. The last gay nominee was Ellen Page for Juno in 2008, though she didn't come out until 2014. Meanwhile, Leto (Dallas Buyers Club), Christopher Plummer (Beginners), Sean Penn (Milk) and Natalie Portman (Black Swan) have all won Oscars for playing LGBTQ characters in the years since.
Second, in the 10 years since Crash beat Brokeback Mountain for the best picture Oscar, things have improved little for movies about trans or queer characters. Only four movies about LGBTQ protagonists have been nominated for best picture: Milk, The Kids Are All Right, The Imitation Game and Black Swan. (Dallas Buyers Club's protagonist, played by Matthew McConaughey, is straight.) That number looks all the lower in context:
Only four of the 78 films nominated for best picture since 2007 have been about LGBTQ characters. That makes Carol's overall support, but exclusion from the picture and director races, all the more frustrating. What is it about movies about queer characters that prevents the Academy from pushing them over the top?
This, unfortunately, is reflective of the industry as a whole. In 2014, only 20 of the 114 films widely released in the US included an LGBTQ character, according to a GLAAD report from last spring. Academy voters aren't nominating many queer stories, it's true — but they also have remarkably few to choose from in Hollywood.
The changes the Academy pledged to make to their membership Friday are an encouraging first step. Yet notably, President Cheryl Boone Isaacs made no particular reference to including more queer or trans members in their numbers. Diversifying how membership finds and votes for the too-limited LGBTQ stories out there will take great effort. That's all the more reason to start now.
There's one shining bit of hope in this year's nominations: Antony Hegarty, a transgender composer nominated for best original song, for her song "Manta Ray" from the documentary Racing Extinction. She is only the second trans person ever nominated for an Oscar. In a year where exclusion was the theme of the nominees, the best original song voters managed to include a unique, history-making voice.
Could Mya Taylor be nominated one year down the line? Could Ian McKellen be the first openly gay best actor Oscar winner someday? If Hegarty's nomination is a sign — and if both the academy and Hollywood get better about finding and promoting LGBTQ stories — the sky's the limit. The numbers are bleak now, but if #OscarsSoWhite proved anything, it's that change is actually possible.
Get the five stories that will challenge you to rethink the world by signing up for MicCheck Daily.