Super Bowl 50 Freebies, Giveaways and Sweepstakes for Free Tickets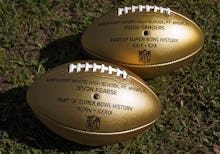 Steve Nesius/AP
Super Bowl Sunday is fast approaching and brands are preparing to throw skin in the game. In the lead up to Super Bowl 50, which will happen on Feb. 7 at Levi's Stadium in Santa Clara, California, a number of brands are offering football fans freebies and running sweepstakes. Here's a roundup of just several giveaways football lovers should scout out for the year's biggest football event.
Read more:
Budlight
Super Bowl 50 sponsor Bud Light is sending one lucky winner and a plus one to the main event, and airfare and lodging are included. The sweepstakes is open to U.S. citizens 21 and older, and the last day to register for the drawing is Saturday. 
Campbell's
Campbell's preparing to send 12 lucky sweepstakes winners to the Super Bowl. The Campell's Chunky's Super Bowl 50 Sweepstakes, as it's titled, will dole out prizes to 12 lucky winners, each of which is worth $12,000. 
Bose
Audio firm Bose is giving away a home entertainment system that's valued north of $4,500. Head here to enter for a chance to win the pro sound setup. 
Pepsi
Pepsi has struck two separate partnerships in order to offer up freebies related to this year's Super Bowl. The first partnership involves chip giant Doritos, an alliance that will send two lucky winners to the Super Bowl in addition to hundreds of consolation prizes. The deadline to enter the sweepstakes is Feb. 8, and participants are limited to 10 submissions per day. Here's a link for the Pepsi-Doritos "Team Up For Gold" sweepstake. 
Pepsi's second partner for Super Bowl 50 giveaways is chocolate maker Mars. Together with the candy firm, Pepsi is giving away a $50,000 grand prize and 300 shopping sprees on NFLShop.com. Head here for more info on the Pepsi-Mars giveaway and entry form. 
Avocados From Mexico
Super Bowl advertiser Avocados from Mexico is doling out a $1,000 prize and 10 $50 gift certificates to the Cheesecake Factory. The deadline to enter is Feb. 8. 
Tabasco
Spicy condiment vendor Tabasco will sent two lucky winners who follow their selfie contest rules to the Super Bowl 50. The sweepstakes also includes more than 1,000 consolation prizes. 
Hyundai
Auto maker Hyundai will be sending 50 football fans to Super Bowl 50 for free. Though the sweepstakes is now closed, the lucky winners will be receiving a notice from Hyundai in the "next few weeks."
In other gift-worthy news, powerhouse musician Beyoncé will be performing during the Super Bowl 50 halftime show alongside British rock band Coldplay.