Kanye and Rihanna Have Finished Their New Albums — Frank Ocean, Where Are You?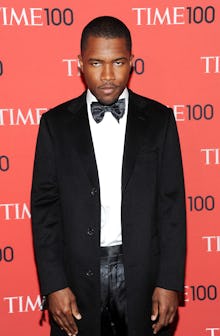 Evan Agostini/AP
As Kanye West and Rihanna both have announced the completion of their forthcoming albums, Swish and Anti, it would appear Frank Ocean is becoming lost in a sea of yesterday. The internet's tides are turning after countless months of speculation as to when Ocean's Boy's Don't Cry project might be released.
Soon, the R&B artist will be a forgotten force. Ocean, a powerhouse vocalist with the potential to climb the charts, promised fans new music would arrive in July; that month quickly came and went. Then, the world rang in the new year, without hearing so much as a tweet from Ocean. 
Read more:
Now, as his peers are planning to release their recently completed studio albums, music heads are beginning to wonder: Does Ocean even care about them anymore?
Rihanna surprised fans with a selfie Monday morning with the caption, "Listening to Anti." Within a few hours of posting the image, RiRi's tweet received upwards of 100,000 retweets. Clearly, the "navy" is ready for some new music. 
Similarly, West dropped a photo revealing the track list to Swish on Twitter, writing, "So happy to be finished with the best album of all time." By the end of Monday, Yeezy's tweet was nearing 200,000 likes, showing his fan's hunger for the 10-track album. 
While fans were reeling over the news of imminent releases for Swish and Anti, Ocean's were more vocal than ever about their dismay and frustrations over their disappearing favorite:
"Plot twist: Drake, Frank Ocean & Rihanna drop their albums on the same day at the same time," one Twitter user named wrote. "Seven [minutes] before Jesus returns rockin sum Balmain."