Sebring, Ohio, Water Crisis: This Village Could Be the Next Flint, Michigan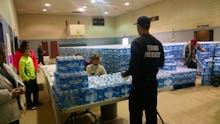 As Flint, Michigan, continues to search for answers amid sickness and death, the tiny village of Sebring, Ohio, is staring down the lead-laden barrel of another water crisis.
After a routine water test from the U.S. Environmental Protection Agency turned up traces of lead in seven Sebring homes and revealed a high lead level at McKinley Junior/Senior High, Sebring Local Schools Superintendent Toni Viscounte chose to close schools on Friday. Schools were closed again on Monday. 
Viscounte told Mic she still doesn't know if it's safe for children to return to classes on Tuesday.
"It's a 16-hour test, and [the EPA] finished collecting samples at 3:30 [Monday] morning," Viscounte told Mic. "I won't get the results back until 5 or 6 a.m. [Tuesday]. If it's a particular spigot or faucet, we can shut that off, but I'm leaning toward closing [Tuesday]. I still have calls to make."
The EPA said Jim Bates, the local water treatment operator, falsified reports of his duties and failed to notify the public on time about lead in the water. On Sunday, the agency announced plans to revoke Bates' license. There is now a criminal investigation under the U.S. EPA Criminal Investigation Division regarding the Bates reports.
"It has become apparent that our field office was too patient in dealing with the village of Sebring's 'cat and mouse' game and should have had closer scrutiny on the water system meeting its deadlines," Ohio EPA Director Craig Butler said in a statement. "We are in the process of developing new protocols and appropriate personnel actions to ensure that our field staff takes action when it appears that a water system is not complying and taking their review seriously."
Viscounte told Mic she was informed the tests returned with water lead levels of over 15 parts per billion, the amount of lead concentration the Centers for Disease Control and Prevention deems unsafe for drinking. According to the researchers from Virginia Tech who tested water during the Flint water crisis, however, there's "no safe level" for lead in water.
The emergency response has been quick. A branch of the Ohio Red Cross has already turned a community center into a water-donation and -pickup station.
"It's a steady flow of residents at the community center," Northeast Ohio American Red Cross Disaster Program manager Scott Meeker told Mic. "The water is coming from the state of Ohio's Emergency Management Agency. Right now, volunteers and the Sebring Fire Department are traveling to residents' homes. We've been here since Friday afternoon." 
Meeker told Mic the Mahoning County Health Department declared the water unsuitable for pregnant women and small children.
Right now, the problem seems small. And with luck, it will stay that way. But like the crisis in Flint, there's no indication when the problem might let up — or how serious it really is.