Taco Bell Has a Secret Super Bowl Commercial Coming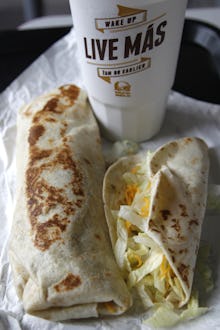 Gene J. Puskar/AP
The mad food scientists behind the waffle taco and the Doritos taco shell are back with Taco Bell's "biggest food creation yet," the company announced earlier this month, and the big reveal will take place during Super Bowl 50.
After a three-year hiatus from the Super Bowl, fast-food chain Taco Bell will run a 30-second ad during the big game, featuring the mystery food creation. Until then, the new menu addition will remain a closely guarded secret. 
Read more:
So what will the new Taco Bell invention be? A taco filled with tiny tacos? A taco shell made of french fries? A burrito that takes you through every meal of the day like the magic gum in Willy Wonka? The company isn't saying, although clues will be released online in the days leading up to the Super Bowl commercial.
"We aren't revealing details of our spot until the big game, but we will have ways for our fans to engage with us in the weeks leading up to Super Bowl 50," Chris Brandt, chief concept and brand officer for Taco Bell, said in a press release. "This build up will pay off with one of the most exciting announcements from the Taco Bell brand to date."
Back in September, Taco Bell made headlines when the fast food company debuted a new website, with features like online ordering and customizable menu options.