New Hampshire Governor's Race 2016: Candidates, Platforms, News and Voting Dates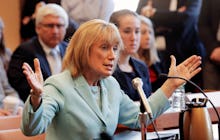 Jim Cole/AP
The presidential election isn't the only political contest that New Hampshire residents will vote in on Nov. 8. The state's current governor, Maggie Hassan, is running for a seat in the U.S. Senate in 2016, which leaves her position open. So far, five hopefuls have announced their intention to run for governor of the Granite State: two Democrats, two Republicans and one independent. State primary elections will be held on Sept. 13 — here are the candidates who have already tossed their hats into the ring. 
Read more:
Democratic candidates
Mark Connolly was formerly New Hampshire's deputy secretary of state. When he announced his bid for governor in November, he named the creation of jobs and an economy attractive to young people, improvements in education and creating "a culture of innovation for 21st century businesses" as his most important issues.
Colin an Ostern served on New Hampshire's Executive Council before launching his gubernatorial campaign. His top priorities are bringing down student loan debt and improving access to education; creating jobs; bolstering health care programs; and funding both renewable energy initiatives and a passenger rail from Boston to Manchester, New Hampshire. 
Republican candidates
Frank Edelblut is a state representative who holds four issues as most important: the economy, family, the environment and freedom — specifically, freedom of speech, Second Amendment rights, the right to life and freedom from government taxation. He would grow a youth-friendly economy and eliminating business taxes to creates more jobs, according to his campaign website. He plans to combat the state's "drug crisis" by improving education and to combat the breakdown of family structure. 
Chris Sununu is also an executive councilor, one whose last name is big in New Hampshire politics: His father was governor in the '80s and his brother was a one-term U.S. senator, according to the Boston Globe.  When he announced his candidacy in September, he said he wanted to revive the state's economy, create jobs that paid higher wages and find ways to keep young talent from seeking work elsewhere. 
Independent candidate
Jon Lavoie is a sales/marketing manager, just a "regular guy running for governor." His priorities include upholding marriage equality; ridding the New Hampshire government of corrupt elements; making abortion safer and accessible; keeping out transmission lines that don't benefit New Hampshire; exploring sustainable energy options and protecting the state's natural attractions; escalating punishment for heroin dealers and improving support programs for users; reconsidering the common core in schools; and keeping gun ownership legal and background checks in place.