The Doctored Planned Parenthood Videos Just Backfired Big Time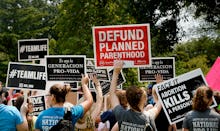 A grand jury investigation into Planned Parenthood Gulf Coast in Harris County, Texas, has backfired terribly for the anti-abortion activists who set it off.
Not only did the grand jury find claims that the Planned Parenthood branch was illegally trafficking fetal tissue to be totally baseless, ABC affiliate KTRK reports, it also chose to issue indictments against anti-abortion activists David Daleiden and Sandra Merritt for falsifying government documents.
Daleiden will also face a second charge: prohibition of the purchase and sale of human organs.
The investigation originally began after the Center for Medical Progress, an anti-abortion group Daleiden and Merritt were members of, released misleadingly edited videos purporting to show Planned Parenthood staffers discussing the illegal sale of fetal tissue for profit. At the request of Republican Lt. Gov. Dan Patrick, Harris County investigators began a formal investigation into the videos in August.
The videos were roundly debunked, with at least five other states finding nothing during the course of similar investigations.
But in a twist, the Harris County grand jury handed down indictments against Daleiden and Merritt for falsifying government identification and other official documents in order to gain access to otherwise off-limits Planned Parenthood facilities.
According to Houston Public Media, tampering with government records is a second-degree felony in the Texas penal code. Daleiden's additional charge is a misdemeanor. Under Texas law, second-degree felonies carry a sentence of two to 20 years in prison and fine of up to $10,000.
"We were called upon to investigate allegations of criminal conduct by Planned Parenthood Gulf Coast," Harris County District Attorney Devon Anderson told KTRK. "As I stated at the outset of this investigation, we must go where the evidence leads us. All the evidence uncovered in the course of this investigation was presented to the grand jury. I respect their decision on this difficult case."
Daleiden and Merritt's legal troubles will not end there.
Earlier this January, Planned Parenthood filed a federal suit in San Francisco against the Center for Medical Progress, accusing the organization of "violating the Racketeer Influenced and Corrupt Organizations Act and committing fraud, invasion of privacy, illegal secret recording and trespassing," reports the Huffington Post. 
The organization seeks compensatory and punitive damages in relation to increased violence and vandalism at Planned Parenthood facilities following the release of the videos, including a mass shooting at a women's health clinic in Colorado Springs, Colorado, which killed three people.
Jan. 25, 2015, 6:13 p.m.: This article has been updated.