Super Bowl 50 Start Time, Channel, Livestream and Viewing Info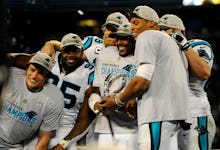 Charlotte Observer/Getty Images
The Carolina Panthers will face off with the Denver Broncos in Super Bowl 50 on Sunday, Feb. 7, at Levi's Stadium in Santa Clara, California. This will be the first Super Bowl held in the new arena, built in 2014, which serves as the home to the San Francisco 49ers.
Viewers can catch the game on CBS at 6:30 p.m. Eastern, with sportscaster Jim Nantz delivering play-by-play, sportscaster Tracy Wolfson reporting on the sideline, and former New York Giants quarterback Phil Simms providing in-depth analysis of football's biggest game. 
CBS Sports' Super Bowl programming will begin as early as 11 a.m. Eastern with Super Bowl 50: Before They Were Pros.
Super Bowl 50 will be available several ways: Live on the CBS network, through a livestream on CBSSports.com, and on home entertainment devices like Xbox One, Apple TV, Roku or Chromecast. Only eligible Verizon Wireless customers will be able to livestream on their mobile device by using the NFL Mobile App.
Read more:
Most eyes are on the two star players at the quarterback position, 26-year-old Cam Newton of the Panthers and 39-year-old Peyton Manning of the Denver Broncos. This will be Manning's fourth Super Bowl appearance; some fans believe this will probably be his last. 
"It's a great honor to be going back to the Super Bowl, playing Super Bowl 50," Manning said, according to ABC News. "I'm really looking forward to it. It's going to be a fun two weeks."
The Carolina Panthers, who enjoyed a 15-1 regular season, defeated the Arizona Cardinals 49-15 in the National Football Conference championship game to advance to Super Bowl 50.
"So much of what I do, I've thought of this moment way before this moment," Newton said after his team's big win Sunday night, according to USA Today. "You are put in a big-game situation like this, you've played it out so many times in your mind. It's like that dream now becomes a reality."
The Denver Broncos, who finished the regular season 12-4, beat Tom Brady and New England Patriots 20-18 in the American Football Conference championship game to advance to Super Bowl 50. 
The quarterback matchup won't be the only exciting event during the Super Bowl: The rock band Coldplay will headline Super Bowl 50, with a guest appearance by Beyoncé. 
For betting fans, the Carolina Panthers are the clear favorites to win. Several Las Vegas sports betting arenas announced the Panthers as favorites over the Broncos, according to ESPN.