Steven Tyler Will Be in a Super Bowl Commercial for Skittles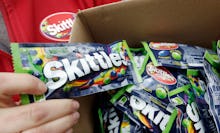 Elaine Thompson/AP
For the second year in a row, Skittles will run a commercial during the Super Bowl — only this time, the candy brand has a superstar spokesperson, Aerosmith's Steven Tyler, who will appear in the spot. 
The singer announced on Twitter last week that he would be featured in the Super Bowl ad, saying "SUPER BOWL 50'S GETTIN A LITTLE SWEETER...STARRING N THIS YEAR'S @SKITTLES AD...CAN U SAY YUM YUM??"
Read more:
As with most Super Bowl commercials, the full ad is still under wraps, but the brief teaser that Tyler tweeted-out indicates the ad will be pretty rock and roll, which is a change from last year's Wild West-themed arm wrestling Super Bowl ad.
Skittles wasn't just at 2015's Super Bowl as an advertiser, the candy was also on the field. Seattle Seahawks running back Marshawn Lynch is a noted Skittles lover, and even ate some just before the kickoff of Super Bowl XLIX between the Seahawks and the New England Patriots. Lynch's love of the Skittles even inspired a limited "Seattle Mix" edition of the candy.