Cruz Hammers Trump's "New York Values" in New Iowa TV Ad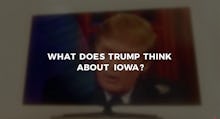 Sen. Ted Cruz is playing up Donald Trump's "New York values" in a new television ad, and — surprise! — he doesn't mean it as a compliment.
Cruz dumps on Trump in the new 30-second commercial a week before the first-in-the-nation Republican caucuses in Iowa, where Trump remains the leader in a volatile contest. Calling out Trump's "New York values" is a way for Cruz to cut the real estate magnate down and alienate him from conservative voters likely to vote in the Hawkeye State on Feb. 1.
"Hey, I lived in New York City and Manhattan all my life, OK? So my views are a little bit different than if I lived in Iowa," Trump says in the Cruz ad.
"I am pro-choice in every respect," Trump is seen telling the late Tim Russert, the longtime host of NBC's Meet The Press, in another snippet handpicked by Cruz ad-makers to put plenty of daylight between the frontrunner and the conservative caucus-goer. The footage in the ad comes from a 1999 interview on Meet the Press.
For the coup de grace, Cruz pulls tape of Trump asking at a November campaign rally, "How stupid are the people of Iowa?"
Although Trump does have a penchant for calling people "losers" and "dummies," the clip is taken wildly out of context: Trump had asked that rhetorical question on the trail when mocking another GOP primary rival, Ben Carson, suggesting that Iowans weren't foolish enough to buy one of Carson's childhood stories.
Never shy on social media, Trump kept up a drumbeat of anti-Cruz sniping for a good part of Monday:
The "New York values" line of attack became a sensation — and not in the way Cruz intended — after the Jan. 14 Republican debate in North Charleston, South Carolina. 
While Cruz used it to frame Trump as too liberal — and perhaps libertine — for the party base, Trump flipped the attack around to recast such "values" as a source of pride, particularly as evidenced by New Yorkers' resilience and unity after the 9/11 terror attacks. 
Cruz splashed the ad on his own Twitter feed Monday evening, saying it would begin airing in Iowa on Tuesday.