The Northeast May Get Another Snowstorm — Here's What We Know So Far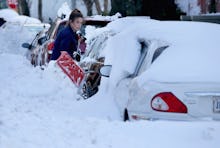 Chip Somodevilla/Getty Images
Much of the Northeast is still recovering from this weekend's major storm, which dumped record-breaking amounts of snow and walloped cities as far south as Virginia and as far north as Boston. Now, AccuWeather.com is reporting that a storm currently forming in the Gulf of Mexico could move along the East Coast, dropping even more snow on many of the same areas hit by the recent snowstorm.
Read more:
The path of the next storm is still unclear, and there's a possibility it will move further out to sea and have a milder effect, but in case it hits along the coast, the Northeast could be bracing for more heavy snow.
"A storm that tracks near the coast could bring rain and heavy snow to the Interstate 95 corridor of the mid-Atlantic and New England, while a storm that tracks well to the east could keep heavy precipitation offshore of most locations," said Senior Meteorologist Alex Sosnowski on AccuWeather.com.
It remains to be seen whether there's another major storm on the way, but it's probably a good idea to keep those emergency supplies at the ready.