'Downton Abbey' Season 6 Episode 4 Recap: Sex and Social Shakeups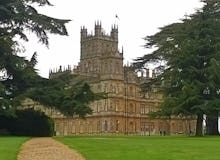 AP
Fast cars, sex (or the suggestion of it, somewhere on the horizon) and challenges to the social order: Season six, episode four is a big one for the characters of Downton Abbey. The latest installment in the final season of the Masterpiece series aired Sunday night on PBS. Here's a full recap of what went down at the Grantham estate, ICYMI. Warning: Spoilers ahead.
Read more:
Fast cars and fast women: Lady Mary has a new suitor, and boy is he snappy. Actually, he's not exactly a new suitor — viewers met Henry Talbot, race car driver, during season five. Now he's back and he's gunning for Mary's affection. Despite the fact that Talbot occupies a considerably lower social rung than the matches Mary is used to, she seems to enjoy the chase. While in London after a late-night visit to Anna's fertility doctor, Mary accepts an invitation to dine with Talbot. Flirtation ensues, straight out of the gate. 
"I hope this means you're boiling up to make a pass before we're done," Mary says to her date, who ensures her that the odds are good that he will.
"But will you accept?" he asks.
"No, but I will enjoy the process enormously," the Lady replies.
Saucy.
Shake-ups in the social order: Episode four sees the return of former chambermaid Gwen, played by Game of Thrones star Rose Leslie, who no one recognizes as a former Downton servant until Thomas Barrow blows her cover during a luncheon. Gwen then explains how the secretarial job — which the late Lady Sybil helped her land in season one — led to government work, and that to marriage, and that to her involvement with the cause she'd come back to Downton to promote: Hillcroft, a women's college.
But an ex-staffer seated at the Downton table isn't the only modern touch in this episode. Daisy, concerned that her beloved pseudo-father-in-law, Mr. Mason, would be left homeless, advocates for him to take over the now-vacated Yew Tree Farm. The deputy cook takes her case all the way to Lady Grantham, becoming enraged when she suspects Cora of having betrayed Mr. Mason's interests. She hasn't, though, and the old man gets the farm.
"Yesterday I thought I hated [Cora], and today she saved our lives," Daisy said after returning from the upstairs battleground to the downstairs world, as if in a daze.
Yes, Daisy: Life at Downton Abbey is nothing if not an emotional rollercoaster.