College Student Asks Hillary Clinton Why Young Voters Aren't Enthused About Her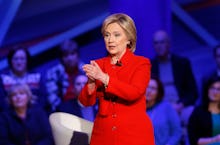 Hillary Clinton got off to an easy enough start at CNN's Democratic Presidential Town Hall on Monday night, basking in the praise President Barack Obama offered her in a recent interview with Politico after host Chris Cuomo read excerpts of the remarks.
But things took a more awkward turn when it came time for audience questions at the Drake University forum in Des Moines, Iowa. Clinton's first questioner, a student, pointedly noted that she's losing badly to Sen. Bernie Sanders (I-Vt.) among younger voters, adding that many of his fellow students saw the former secretary of state as "dishonest."
"It feels like lot of young people, we're passionate supporters of Bernie Sanders, and I don't see the same enthusiasm from younger people for you," the student said. "In fact, I've heard from quite a few people my age that they think you're dishonest, but I'd like to hear from you and why you feel the enthusiasm isn't there."
Clinton pushed back on the notion she has a problem with younger voters, despite polls showing Sanders leading her among that demographic nationally and in Iowa. At any rate, she added, she's happy to see young people engage in the political process regardless of which candidate they back.
"You know, today in Oskaloosa, I spent time with about 10 high school students who are enthusiastically working for me. I see young people across the state who are doing the same," Clinton said. "But I'm totally happy to see young people involved in any way. That's what we want. And we want to have a good primary, to pick a nominee, and then we want to have everybody join together to make sure we win in November, which after all, is the purpose of this whole campaign."
Alluding to the questions surrounding her honesty following controversies like her use of a homebrew email server as secretary of state, Clinton depicted herself as a battle-tested political warrior who would trudge through Republican attacks, "I've been around a long time. People have thrown all kinds of things at me. And you know, I can't keep up with it."