Hillary Clinton Comes Under Fire for Civil War "Revisionism" at CNN Town Hall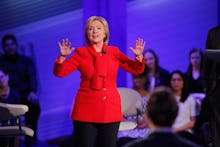 Hillary Clinton turned in a skillful performance at CNN's Democratic Town Hall in Iowa on Monday night, deftly answering questions on topics ranging from Benghazi to her personal trustworthiness. But the presidential hopeful sparked accusations of historical revisionism with an answer near the end of the evening, when Clinton seemed to bemoan the process of Reconstruction.
The answer: Identifying Abraham Lincoln — not her husband Bill Clinton nor former rival and boss Barack Obama — as the president who most inspired her, Clinton lauded the 16th chief executive as a figure who "was willing to reconcile and forgive."
"And I don't know what our country might have been like had he not been murdered, but I bet that it might have been a little less rancor, a little more forgiving and tolerant than might possibly have brought people back together more quickly," Clinton continued. "But instead, you know, we had Reconstruction, we had the reigns of segregation and Jim Crow. We had people in the South feeling totally discouraged and defiant. So, I really do believe he could have very well put us on a different path."
Behind the backlash: The controversy centers on Clinton's lumping of Reconstruction — the post-Civil War process whereby the United States enforced political reform and basic rights for freed slaves in the former states of the Confederacy — with the racial apartheid of segregation and Jim Crow. Republicans agreed to halt Reconstruction as part of the Compromise of 1877, which settled the razor-thin election between GOP nominee Rutherford B. Hayes and Democrat Samuel Tilden.
A period of rising African-American political power and reconstituted civil society for blacks, Reconstruction has become a prominent topic once more as historians commemorated the sesquicentennial of the Civil War's end. In a New York Times op-ed in March 2015, historian Eric Foner of Columbia University linked Reconstruction's end to the rise of "a comprehensive system of racial, political and economic inequality, summarized in the phrase Jim Crow."
Following Clinton's answer, a number of liberal commentators and journalists reacted with dismay, noting similarities between Clinton's rhetoric and that of revisionist historians who argue that Northern radicals imprudently alienated the South by pursuing measures like black suffrage, non-discrimination codes and public education.
Why it matters: The criticism comes as Clinton seeks to shore up her advantage with African-American voters, whose support will be particularly crucial in states like South Carolina, part of Clinton's much-ballyhooed "firewall" of multiracial support against Sen. Bernie Sanders (I-Vt.). One eyebrow-raising answer won't erase decades of close relationships between the Clinton family and the African-American community, but the controversy comes at an inopportune moment for Clinton, as Sanders shows signs of strength in Iowa and New Hampshire.
The Clinton campaign did not immediately respond to Mic's request for a clarification of her comments.